LEGEND Ritual Echo www.stevepaine.org (2009)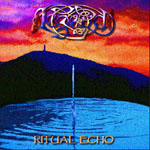 Described as a 'pagan rock band' Legend have been going since the late eighties without, it seems, wider success. However, listening to this compilation of their 'best bits', it is possible to see why. The keyboards from band mainman Steve Paine are convincing enough but Paul Thomson's guitar solos are insipid and tonally uninspiring.
Vocalist Debbie Chapman reminds me of Sonja Kristina in seventies Curved Air - especially on the excellent 'Dance' - slightly quirky but suiting the music which is fairly widescreen in concept and with mediaeval flavours on a track like 'Holly King' which has echoes of Tull but without the flute. At other times, Jerney Kaagman of Dutch proggers Earth & Fire comes to mind. However, Debbie's vocals are mixed a bit low for my addled ears.
Ultimately this is well played prog (especially on the opener 'Triple Aspect Overture') but perhaps a little too safe for its own good. There is no indication on this album of recording dates but it looks like the band have either re-mixed or re-recorded some of their earlier material and added some live tracks. If the original material was deficient in some way, unfortunately the new recordings aren't brilliant in quality either.
Apparently a new album is due which hopefully will update their sound and potential. It's a tough world out there and with bands like Panic Room and Touchstone raising the prog/melodic bar ever higher, Legend need to do a lot more to live up to their name.
***½
Review by David Randall
---
| | |
| --- | --- |
| | Print this page in printer-friendly format |
| | Tell a friend about this page |