LARKIN POE Summer Edwins Records (2010)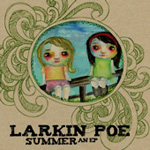 We were pretty impressed here at GRTR! by the debut ep Spring from young American sisters Rebecca and Megan Lovell, aka Larkin Poe, concluding that the 9 tracks mini opus made them contenders for the Dixie Chicks' country crossover crown.
Still only 19 and 20, the girls have recently played their debut UK gig and have a CV that already includes playing the Grand Ole Opry, collaborating with Elvis Costello and opening for the Indigo Girls. And with youthful enthusiasm they're taking fans on their evolutionary journey by recording and releasing four seasonally themed mini-albums in 2010 and early 2011.
Summer, the second of those releases picks up where Spring left off with the girls once again ably supported by Knoxville based musicians Daniel Kimbro (bass), Chad Melton (drums) and Mike Seal (electric guitar). And it's another enchanting potpourri of folk, Americana, country and pop.
This time around we get another 9 tracks, 3 of which are recorded live and the fresh twist is that the girls have added a hint of jazz to their sound. And it may be my imagination, but it sounds much more of a band effort, Mike Seal in particular being given his head to embellish the overall sound with some lovely guitar flurries.
The pick of the studio tracks is Wrestling A Stranger which has subtle echoes of Quarterflash's Williams Avenue and suggests that if the girls decided to take a more mainstream route they could be huge. The other revelation is the live tracks - again there's some wonderful musicianship which would stand shoulder to shoulder with Alison Krauss' Union Station, but the icing on the cake is the raw quality of the girl's vocals - in particular on the gospel blues cover of Blind Willie Johnson's In My Time Of Dying. Superb. Bring on the Fall and Winter.
***½
Review by Pete Whalley
---
| | |
| --- | --- |
| | Print this page in printer-friendly format |
| | Tell a friend about this page |