K'S CHOICE Echo Mountain (2010)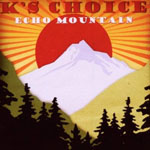 K's Choice are a new one on me, as they may be on you. Which just goes to show how much can pass under our combined musical radars, because K's Choice have had a string of hits worldwide as well as having millions of record sales under their belt.
But this success was some years ago - about eight, to be precise. Built around the Belgian brother/sister song writing team of Gert and Sarah Bettens, the band formed in Antwerp in the mid nineties, scoring their first global hit in 1996 with Not An Addict. The fallout was enough to get them a support slot on Alanis Morissette's Jagged Little Pill tour and the rest, as they say is history, with the band notching up 5 million sales over their first 4 albums.
In 2003 Gert and Sarah decided to take a sabbatical to get some solo projects out of their system. And that hiatus continued until they started exchanging song ideas between Tennessee and Antwerp and both agreed, it was time to reconvene the band including former members Eric Grossman (bass) and Koen Lieckens (drums). The new line up also brought in guitarist Thomas Vanelslander and keyboard player Reinout Swinnen.
Strangely released as a double cd, but lasting only 48 minutes, Echo Mountain is an excellent piece of indie/folk/pop. The band's PR blurb suggests they might appeal to fans of Belle & Sebastian, but to my mind they're altogether more accessible, with their folkly acoustic rock reminding me very much of a modern day Buckingham / Nicks. Check out the title track and you'll get my drift, although predominantly Sarah's vocals have the warm timbre of, say Karen Carpenter.
With a sound that should have worldwide appeal, Echo Mountain is a fabulous comeback and comes highly recommended.
****
Review by Pete Whalley
Free download
Video
---
| | |
| --- | --- |
| | Print this page in printer-friendly format |
| | Tell a friend about this page |