Just witnessed your best live gig?.. send us a review!
KISS O2 Academy, Islington, London 2 March 2010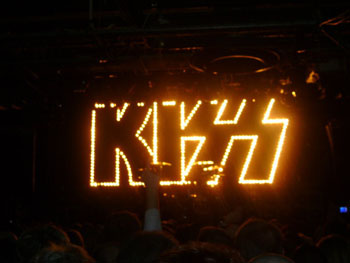 The Islington 02 Academy is buzzing tonight. Usually this place is the meat and drink to the Euro Rock of Hammerfall, Edguy and the emerging new guys trying to break the UK mainstream scene. Tonight, things are different.

The last time a certain band played anything this small over here, the logo on the back wall said "Marquee" in big friendly letters and that was quite a while ago in 88, with no need for a max factor sponsorship!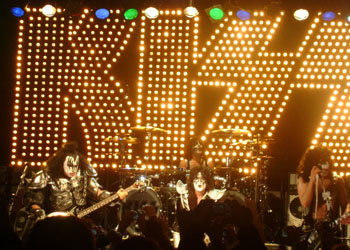 Tonight there's a big sign on stage, that will burn "Kiss" into your retina by the end of the night, if you're not careful. It leaves us in no doubt that we're in for a treat!

Kiss are in town, the gig is sponsored by Classic Rock, and "we want the best" please, if that's not too much to ask Messers Stanley, Simmons, Thayer and Singer!

The band storm the stage with a sure fire opener from Sonic Boom: Modern Day Delilah, and we are away.This one's designed to be a classic.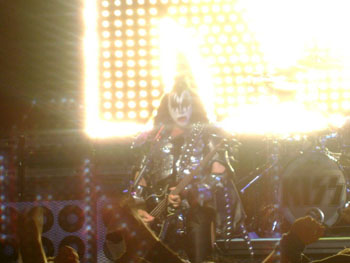 I love the new album but it has been engineered to be "by numbers" Kiss, get past that and it certainly doesn't dissappoint ticking all those boxes.
So onstage right now we have Gene prowling the stage, and pervily licking up the "Space Ace's" neck whilst Paul hams it bigstyle and Mr Thayer does his best to persuade me that he is the "Ace" of the band with technical brilliance. We happy? "Oh yeah!" ...
The only other Sonic Boom of the night is "Say Yeah", whilst the rest of the evening we have classic Kiss and my Love Gun explodes in all the right places!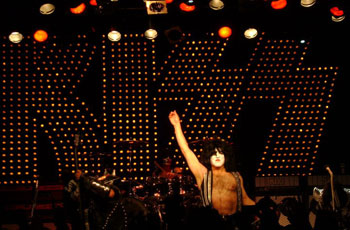 It's a visual orgasm on stage, with them just giving it Kiss alive to the max. They know what they're doing and it's the greatest hits letting us go, rock and roll indeed!
The crowd certainly love it loud and there's plenty of Jack Daniels being supped, or is that Cold Gin in my glass? The cheapest stuff is all I need, but at £45 a ticket, I've gone for the premium priced option tonight!

With the superb Eric Singer being Catman in the band, one thing I wish Kiss would do is play more classics from his debut critically aclaimed "Revenge" Album with the band ... a Gene solo on Domino would go down a treat right now ... Can I make that a summer request?

A capacity crowd of 800 is sadly made up of 300 record company freeloaders who obviously have no idea of the words here. Hang your headz in shame and hand a whacking apology to my missus and the many of the hard core Kiss Army UK who as big a fan as me, couldn't get a ticket to get in here for love nor money.
What right do you have not even to know the words to one of the greatest rock and roll spectacles on the planet ??
Fair play to the likes of Kiss Celebs comedian Iain Lee and Tailz' Matt Blackout but come on, if you were there on a junket... and don't know ANY Kiss songs be very thankful!

If ONLY the band had gone on for 100,000 years, but all too soon we are "out on the streets for a living" for the crescendo of traditional show stopper Black Diamond and then sadly I hear the Starchild proclaim the rock and roll national anthem, and we're off to "Rock and Roll all night and party every day" and a stadium size confetti storm.
Sadly, according to internet rumour it is this CO2 canister fuelled confetti storm which means the party has to stop after 1 hour 15 mins and we get no more classics such as Lick it up, that are sadly missing.
Really...The picture had only just begun... The guys from Kiss Tribute Dressed to Kill are here, and have made me too expectant with obscure stuff and their 2 hour+ sets in the past.
That's my only criticism that it's all too short!! Catch DTK near you, as that's as close as you'll get to this, in this size club! (and value for money!)

Before Xmas, a certain Mr Ace Frehley comes on an hour late to similar size London venue, and plays an hour set and disappoints all.
Tonight, we've tasted blood and we want MORE. No stage show or firework shooting solos tonight ... ROLL on WEMBERLEY, and the European tour..!
WHAT a summer we have lined up. "I was there when Kiss played the Islington Academy ... "
(And a bitter Mark Taylor adds "I was at Kiss Marquee gig in 88, having to cue up at 11am to get in, in pre-internet days...now the gig sold out in five seconds flat and going on Ebay for 500 quid...)


Setlist: Modern Day Delilah/ Cold Gin / Let Me Go Rock And Roll / Say Yeah / Calling Dr. Love / Got To Choose /
I Love It Loud / 100,000 Years / Love Gun / Black Diamond / Rock And Roll All Nite / Detroit Rock City
Review and photos by John Oakley
---