KIRK FLETCHER My Turn Wienerworld EGRCD511 (2010)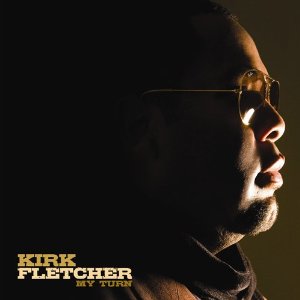 'My Turn' is a significant step forward for Kirk Fletcher as a recording artist in his own right. Doubtless Fab T Birds, Charlie Musselwhite and Mannish Boys fans will already be tempted, but even they will surely be surprised by the confident playing, the countless moments of real inspiration and the fact they are hearing a good player becoming great as Kirk explores his own signature style over 10 excellent tracks.
Kirk makes the most of his freedom in the studio and the presence of the experienced Michael Landau as producer/second guitarist to explore his inner self via some exploratory playing across a good choice of material. Above all he is unafraid to embrace an array of wide ranging approaches from blues and funk to soulful grooves, gnawing licks and an updated jazz-fusion style that beautifully lights up the title track. And almost as if caught up in the moment he ignores the safety net and takes a leap into the void as a vocalist on two songs of which his startling growling vocal refrain on Sly Stones' funky 'Let Me Have It All' is the better of the two.
But it's his contemporary take on the blues that lies at the very core of this album as evidenced by some of his toughest lines on 'Blues For Antone'. Kirk leans into the piece with real purpose and gusto. He delivers intense note clusters and some polar opposite long lean notes, teasing out a variety of tones and dynamics as he engages us in a blues guitar conversation that eventually opens into a duet with Michael Landau. This is a mesmerising slow blues underpinned by Tom Fillmans powerful drum track and is beautifully resolved by a wah wah splashed psychedelic outro.
There's an overall fluency to this album born of well chosen material, imaginative arrangements, well thought out sequencing and above all very good playing. Even the fact there are two rhythm sections on the cd doesn't deflect Kirk from the greater picture as the line-up change merely pushes him into different directions and new heights.
He opens with'El Medio Stomp', a Texas sounding Albert Collins meets SRV style groove with a warm tone, a pounding rhythm track and plenty of string bends and swiftly repeated notes. It's not so much a stomp as a tightly sprung exploration of different tonal colours, mirroring an album that is as much about Kirk imaginative solos as the genre he explores. He adds his first vocal on Jimmy Reed's 'Found Love'. Kirk's voice adds world weary feel to a relaxed, if not languid affair Again the emphasis is on sonic diversity on what sounds like a banjo and mandolin accompaniment before Kirk delivers a tasty incisive solo with intense note repeats that echo the style of his fellow West Coast guitarist Junior Watson.
A good start gets even better as Kirk works his way through some soulful, funky, melodic twists and turns. He dives into the funky instrumental 'Natural Anthem' but he never strays too far away from the blues. There's also an exciting mid-number guitar burst full of tremulous notes with the same sort of nervous energy of the younger Buddy Guy. The closing slide guitar line from David Melton and the funky riff and horn response is nicely rounded off by a muted trumpet. Much like the title track, this number has a Crusaders feel to it before he completely reveals his source on a cover of Wilton Felder's 'Way Back Home'.
But rather than dusting down old material to fill a void, Kirk updates the music of his youth with brio and inventiveness. He manages to evoke both Sherman Robertson and Robert Cray on the big band arrangement of 'Ain't No Way' while on the Latino sounding 'Congo Square' his sax player Paulie Cerra adds an imperious vocal. Here is surely the best example of Kirk's ability to make a piece his own as he toughens up the Sonny Landreth version but retains the soul of the Neville Brothers in an eloquent guitar led conversation that gloriously meanders in and out of the funky arrangement.
It's testament to Kirk success in finding his own sound that he is able to invest the song with a new sense of vitality and presence. His guitar positively soars and the exclamatory yell on the outro suggests he's an artist at ease with himself who is having a great time as well.
Each track unveils a different shade of Kirk's abilities as he goes on to fulfil his aim of 'finding out who Kirk Fletcher is as a player'. Kirk can get low down and funky, he can feel a groove, he can colour a piece through his playing but he's also an innovator. And to that end the closing magisterial Hendrix influenced 'Continents End' is the prefect balance of spontaneity and studio craft.
Kirk dives headlong into his own head trip with some long swooping notes and tension building sustain which drips with feedback and congeals into a psychedelic fog of sonic intensity. The poetic rap from Karen Landau fits perfectly as the number drops down in a delicate shower of harmonics and guitar string scrapes. Hell this is real art!
'Continents End' may or may not be a career high point for Kirk but it's just about the closest anyone has come to updating Jimi Hendrix and finding a new context for the late great man's unquenchable imagination.
'My Turn' is an unabashed statement of intent by a young contemporary blues guitarist who you suspect has just realised his time has come and that time is now!
An essential purchase.
*****
Review by Pete Feenstra
---
| | |
| --- | --- |
| | Print this page in printer-friendly format |
| | Tell a friend about this page |