Kinkiness but not for the serious fan...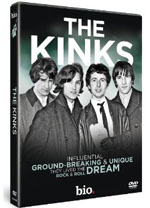 The Kinks DVD is a tired run through of an oft told tale with not enough live footage, and certainly not enough band member input. There's nothing from Nobby Dalton who took over from Pete Quaife in the mid 60's and nothing from the post 70's successful American era, let alone anything from pivotal figure Ray Davies, save for a few old clips.
And while brother and guitarist Dave Davies cuts an affable figure, the more down to earth comments come from the now sadly deceased Pete Quaife (which I suppose gives the DVD a sentimental value). For the rest its filler stuff from talking heads such as the Kinks biographer Andy Miller, and Springsteen's Little Steven, Kurt Loder and Rolling Stones' Charles M Young
And the fact that the first 3 talking heads are American cultural commentators is bad enough without the main incidents of the band's career being brushed over to cram in far too many vacuous link pieces.
Of course there's mention of the on going enmity between the Davies brothers from their younger days to becoming full blown rock stars, but Ray's only comment on the matter comes in a conciliatory clip at the end (and by the look of it an old clip) where he says 'Dave should have a solo career', when in fact Dave has already enjoyed such a career for years.
But this DVD is not without merit, the brief comments of producer Shel Talmy, on the early days and the sensible advice offered by label boss Clive who steered the band back to stripped down songs and belated late 70's success in the States - is at least a little illuminating.
Throw in a few good chuckles from drummer Mick Avory and you have some kind of a wafer thin account of The Kinks career. But it's the things left out that makes this doc so disappointing. There's no mention of the band trying to cope with a changed rock environment after the four year ban and hardly any analysis as to why they got banned in the first place, in the very week that Ray announced in a broadsheet that is was due to 'a violent argument with a union fixer on an American television'. In fairness Mick Avory does vaguely mention this but on it goes with hardly any explanation as to their third coming with Davis's newly formed Arista label, save for his advice to the band; 'I had to tell them to give the people what they wanted'
Perhaps the most sensible comment comes earlier on when biographer Miller starts to outline the influence that 'You Really Got Me' had on various decades of rock, except after a promising start he runs short of examples.
Finally, the band 90's induction into the Rock & Hall of Fame' is mentioned without any trace of irony and there's a baffling jump to the non Kinks incident of Ray being shot in New Orleans, presumably to make a connection with the films end theme of reconcillation with his brother.
Still if you want a post pub run through of the band that followed the Beatles, and very nearly didn't, then 'The Kinks' is an unchalleging romp through 46 years of Kinkiness. Serious fans need not be detained.
***
Review by Pete Feenstra