KEVIN WELCH A Patch Of Blue Sky MR RCD008 (2010)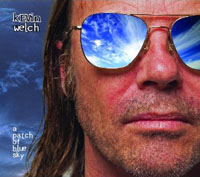 In a musical landscape overpopulated with singer song-writers, it's rare for an independent country artist to still be standing some 32 years after first dabbling in, but refusing to be subsumed by, the expectations of a claustrophobic Nashville Country music scene.
But Kevin Welch is no ordinary artist. He is that rare thing in the contemporary American roots scene, a fiercely independent thinker with his own record label and his own conceptual take on life.
From the Mid-West to Texas, from Denmark to Ireland and from Australia back to the US, Kevin is a restless spirit whose new album 'A Patch of Blue Sky' reaffirms all that is good about the alt. Country singer song-writer niche.
After several years spent as an integral part of his Dead Reckoning label and as a national touring artist, 'A Patch of Blue Sky' returns the spotlight to Kevin Welch the wordsmith, whose brand of alt. Country / Americana strives for an understanding of both the self and life bigger picture via fulsome observatory narratives.
Its nearly 20 year now since he made his mark with his self titled debut album and while it took another 16 years before his collaboration with Kieran Kane and Fats Kaplin on 'Lost John Dean' brought him real commercial success, Welch has stayed steadfast to his muse. 'A Patch of Blue Sky' may be his first solo album for some 9 years, but the album marks a welcome return for one of contemporary roots music's more thoughtful chroniclers of life.
He opens with a swampy feel on 'Come Rain', a song inspired by his son Dustin's comment that if Woody Guthrie was alive today he would be a punk. The song is a clever roll call of historical, political, philosophical and cultural heroes, all brought to life by Welch's inimitable way with poetic couplings;
'Leonardo was an alien, Plato was a scream, Vincent was a flower child, Elvis was a dream and Marley was a preacher, Columbus was a dope, Houdini was a rascal, and Hank Williams was a ghost'
The album opens and closes with full blown gospel backing that underscores Kevin's descriptive narratives.
His songs are an honest evaluation of what sees in his day to day life. 'The Great Emancipation' for example, is a song about adversity, personal grief, but overriding hope and love. The hard hitting subject matter of the natural catastrophe and emotional turmoil that he in part witnessed in Australia is interpreted in a broader context of resilience in the face of adversity;
'My wife, she stands by me, Though I know so many times I let her down,
She knows the kind of man I want to be, And she knows that I'd be lost without her now'.
There's also wonderful duet 'Andaman Sea' sung with Eliza Gilkyson, which is beautifully nuanced by Dustin's opening banjo line and neatly offset by Brian Standefer's cello and Bukka Allen on harmonium. This is a beautifully sung ballad full of aching feel and descriptive lyrics that capture a moment in time somewhere deep in Thailand.
All ten songs offer more with repeated plays, no more so than the impressive layered dynamics, big guitar figure and sorrowful lyrics of 'Marysville', which unflinchingly chart stoicism in the face of bush fire adversity.
The emotive 'Midnight and Noon' is another highlight, being a love song and duet with Sally Allen, full of rich instrumentation - from banjo to expansive pedal steel - and some mellifluous chord changes and a lovely melody. In contrast the Martin Hoybye co-write 'Long Gone Dream' is a stripped down contemplative affair, while the poignant 'Answer Me That' uses some expressive Van Morrison style phrasing on a song that expands the question; 'if love is the answer, what is the question' and 'I'm tired of wondering what part of that don't I understand'
There's so much good stuff here on a slow burner really should demand your attention. Listen to the organ led, meandering understated languor of 'That's How It Feels' with Kevin's lovely phrasing, an insistent chorus and another beautifully judged cello line, and you are listening to the kind of feel blues often lays claim to;
'I'm glad to know, That I don't know nothing, That's how it feels, In this heart of mine'.
And despite being troubled by events and searching deep in the realms of his spiritual quest, there's a well placed sense of optimism of the closing title track. The combination of piano, slide and gospel tinged outro is the perfect finish to a well crafted album.
****
Review by Pete Feenstra
---
| | |
| --- | --- |
| | Print this page in printer-friendly format |
| | Tell a friend about this page |