KEEL Streets Of Rock N Roll Frontiers (2010)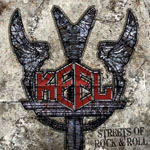 Another 80's band reforms, although Keel may not be top of all dream reformations they had success in the mid/late 80's (the band's best album 'The Right To Rock' album gets a 25th anniversary re-release via Frontiers as well) and enough to warrant Frontiers picking their new album up for release. Main man Ron Keel is still in fine vocal form (he fronted the more southern/country rock band Ironhorse prior to this album) and good to see guitarist Marc Ferrari still involved. Ferrari famously appeared in a cameo on 'Wayne's World 2' where Christopher Walken took his guitar and showed him how to play a proper solo! Anyway, fast forward to now and the band unleash their new album following some successful live dates this year. Two fellow 80's rockers help out on backing vocals as well, Jamie St. James (Black 'N' Blue/Warrant) and Paul Shortino (who is Ron Keel's vocal coach as well).
The first three songs are the best on the album, all are no nonsense hard rock meets metal songs with instant choruses and enough guitar solos to keep the metal quota up. After these three songs it is a mixed bag, the slower numbers like 'No More Lonely Nights' don't really hit the spot and 'Lookin' For A Good Time' sounds like cut 'n' paste 80's hair metal. All is not lost though as 'Brothers In Blood' is a rousing anthem as the title suggests and 'Gimme That' just hits hard.
Enough on here certainly to please the band's fans but I can't see it drawing in people who weren't fans first time around.
***½
Review by Jason Ritchie
---
| | |
| --- | --- |
| | Print this page in printer-friendly format |
| | Tell a friend about this page |
***** Out of this world | **** Pretty damn fine |
*** OK, approach with caution unless you are a fan |
** Instant bargain bin fodder | * Ugly. Just ugly
get ready to rock is a division of hotdigitsnewmedia group