KAMELOT Poetry For The Poisoned Ear Music/Edel (2010)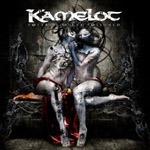 One of the most eagerly awaited 2010 releases for me having discovered this band at the time of their 'Black Halo' release. They have a new label having left SPV and expectations will be high after a three year gap between albums. Do they manage to match or even exceed 'Ghost Opera'? Not quite but they have a damn good try and add some new musical twists to their already impressive musical armoury.
'The Great Pandemonium' kicks things off in fine style complete with guest Cookie Monster growls from Soilwork's Bjorn Strid. I am no lover of growl 'vocalists' but it does work well on this pedal-to-the-metal opener. A song you can picture them either opening or closing their future live sets with.
'If Tomorrow Came' is another full head on metal assault. With vocalist Roy Khan you have someone who manages to exude vocal power in is singing without resorting to high pitched wailing. He could easily hold his own in a West End or Broadway musical and would be a prefect fit for the Trans-Siberian Orchestra shows.
Skipping over the filler 'Dear Editor' (a chance for the band to add some SFX and movie feel to the proceedings but a track you'll be skipping after a few listens), 'The Zodiac' is a dream duet between Khan and Jon Oliva. It's like Kamelot meet Savatage as you'd expect and they complement each other very well indeed.
Like 'The Haunting' of the last album Epica's Simone Simmons pops-up for another heartfelt duet on 'House On the Hill'. It is good but not a patch on the aforementioned 'Haunting'.
The four part title track sees the band stretch out musically with Thomas Youngblood getting a chance for some fine guitar solos. Midway through it even sounds like a melodic hard rock song! The big stinker on the album though is 'Once Upon A Time' which sounds like they have bolted together bits of their previous songs and it sounds too formulaic for a band of Kamelot's talents.
Not quite as good as I was hoping for but then I have high expectations of this band and for the most part they deliver. The guest vocalists work well and the band have ventured into some new sounds most notably on 'The Great Pandemonium'.
****
Review by Jason Ritchie/B>
---
| | |
| --- | --- |
| | Print this page in printer-friendly format |
| | Tell a friend about this page |
***** Out of this world | **** Pretty damn fine |
*** OK, approach with caution unless you are a fan |
** Instant bargain bin fodder | * Ugly. Just ugly
get ready to rock is a division of hotdigitsnewmedia group