JUDAS PRIEST British Steel (30th Anniversary) 2CD+2DVD Columbia/Sony (2010)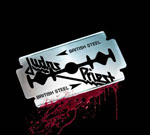 One of Britainís best and most classic metal bands, and one of their best LPs, gets a complete anniversary overhaul. 4 Discs, remastered, wow!. And I really mean WOW!
Still going strong, with only a change of drummer from this 1980 set, Judas Priest have produced some fantastic and era defining metal during their history, and this one stands out. The year that the NWoBHM took off and the Birmingham legends laid down a template for the younger bands to follow. It originally charted in the UK top five and USA top 40, no mean feat indeed.
Starting with the original LP, British Steel opens with the high speed 'Rapid Fire', while the more anthemic 'Metal Gods' gave the band their well deserved nick-name. By track 3 you have 'Breaking The Law', one of the most catchy and memorable metal singles of all time. Strong and high vocals from Rob Halford, and Glenn Tipton and KK Downing duelling lead guitar like never before. 'Grinder' is solid and heavy, with chunky guitar work. 'United' is a track I remember Priest performing on Top Of The Pops, a stand out chorus, and proof that classic metal doesnít have to be fast and furious.
'You Donít Have To Be Old To Be Wise', one of Priestís lesser known tracks, still rocks with aplomb.
Solid and heavy rhythms from bassist Ian Hill and drummer Dave Holland.
Another classic track is 'Living After Midnight', again catchy and classic metal that gets feet stamping and heads nodding in unison, and many a guitar solo too.
'The Rage' and 'Steeler' complete the album with metal and fire.
While the 70s laid the foundation, this album really laid down a template for all metal to come.
Two bonus tracks complete the original studio album.
Judas Priest have recently played the entire album live, beginning to end, and the bonus CD here is a 15 track live set with the 9 track original LP augmented by 6 further live cuts including 'The Ripper', 'Freewheel Burning' and 'Youíve Got Another Thing Coming'.
The two DVDs include the video of the live show, and a Making Of documentary.
So while the LP laid down a metal template, this release lays down a format template. Reissue of the year for sure. If only more anniversary remasters were so comprehensive.
Celebrate British Steel in style.
*****
Review by Joe Geesin
---
| | |
| --- | --- |
| | Print this page in printer-friendly format |
| | Tell a friend about this page |