JPT SCARE BAND Acid Blues is the White Man's Burden Ripple RIPCD001 (2010)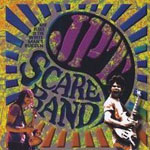 Not so much reinventing the wheel as taking a circuitous route to rediscover post acid psychedelic rock blues, the Ripple label is to be commended for delving into some obscure vaults and coming up with bands like JPT Care Band.
But while 'Acid Blues Is The White Man's Burden' is a stoner's delight and does at times bring a retro smile of recognition to the lips, this Mid-West trio offer a kind of tripped out museum piece rather than cutting edge Acid Rock.
Indeed other than the impressive opening 'Long Day' with its intense acid drenched wall of sound - all heavy organ, soaring guitar and imposing chord changes - the rest of the album flatters to deceive, on the back of a some loose limbed early in the morning jams.
On closer inspection of the liner notes reveal references to 'lost tapes' and in the case of the closing 'I've Been Waiting', third versions of the same song, suggesting this album isn't so much a ground breaking excursion into retro stoner rock as compilation of a long forgotten band, whose influences are probably greater than their own material.
And that is a shame because there's much to admire here from the obvious Zeppelin/ Sabbath meets Leslie West and Iron Butterfly influences on 'Stone House Blues' to the Brit Invasion rock-blues style of the title track.
But you somehow suspect that on the evidence of their metal influenced version of 'Death Letter Blues' and the enjoyable closing post-party psychedelic blues jam, 'Amy Blue Day', that JPT Scare Band were always on the outside looking in.
The above free form jam for example, originated in 1974 at a time when The Grateful Dead recorded the underrated but enduring 'Live From The Mars Hotel' and Welsh psychedelic heroes Man cut their opus 'Winos Winos & Lunatics'. Somewhere between that kind of company and Stony Curtis's 2005 'Acid Blues Experience', not to mention Nick Saloman's 90's efforts with Bevis Frond, JPT sound like it probably says on their tape tin, 'a psychedelic jam'. But if you can settle for that, then you will enjoy this compilation and the wide enthusiasm with which it is played.
****
Review by Pete Feenstra
---
| | |
| --- | --- |
| | Print this page in printer-friendly format |
| | Tell a friend about this page |