JONAS SHANDEL Jonas Shandel Nowhere Town NTR0901 (2010)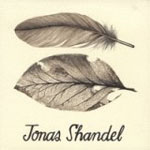 Jonas Shandel's self titled debut cd is in fact a 7 track mini album. It's a side project outside of the confines of his usual employ with Canadian roots band Headwater and he's produced a beautiful piece of work that will surely lead to increased interest in his solo career.
This is an album full of the intricacies of a song writer's craft. The seven tracks flow like a mountain stream, carried by insistent rhythms that bury deep in your psyche and uplifting melodies that stir the soul.
The beat box and pedal steel introduction acts like an unwavering conveyor belt of gentle textured rhythms that run through the heart of a mesmerising album. There's a real organic feel to a set of songs that are topped by the understated but beguiling vocals of Jonas Shandel. The relaxed and unhurried feel to album suggests he wanted to go back to his roots in the time honoured folk tradition of writing songs about the basic things in life.
He writes about his immediate environment (Vancouver) and songs about the changing seasons, reflections on life, love and the simple pleasures of day to day existence. Jonas has a mellifluous voice that washes over you like a lazy sea spray, while the more delicate guitar and percussion parts evoke JJ Cale, but without the bluesy undertow.
Jonas' real talent lies in knowing how to use his limited range to great effect. He imperceptibly changes his vocal style to emphasize the meaning and the feeling of his lyrics. But if there's one thing missing from this musical masterpiece it's a lack of a lyric sheet. One moment he concentrates on exploring a melody and the next he takes on the mantle of a world weary narrator before effortlessly swooping and gliding on the back of a confident timbre that takes on the role of an extra instrument.
It all works superbly well except that at times the lyrics become briefly submerged by the colourful instrumentation.
He's pretty unique. There may be shades of Nick Drake's fragility on 'Time' and Morrisey's sense of restrained melancholy on the concluding line; 'I never felt like this before, I think I'm growing older, I'm pretty sure, you want me hanging around your door' , but it is Jonas's heartfelt lyrics and effortless vocals that glue the tracks together.
He's equally at home on a minimal arrangement like 'Time' or in duet mode as on the Blanche influenced, alt.country sounding 'Rolling Like A Stone'. Each deftly plucked note and each whispered vocal line draws you into his lyrics; 'come in from the winter and sleep by the fire in our arms'.
'Drinking the Water' is an outstanding and mesmerising track on which he surrounds himself with a 4 part vocal ensemble. There's an arresting hymnal quality to his music that derives its source from a wonderful blend of acoustic driven rhythms, beautiful lush harmonies and Caribbean pan pipes.
And the album is nicely rounded off by a reprise of the core rhythms on Peter Gabriel's 'Mercy Street'. It's a hard call to emulate Gabriel's synth laden original, but the Caribbean sounding rhythms and banjo bring a fresh take on a classic track. Jonas has got a great eye for layered melodies and strong imagery as evidenced by 'Burial Ground'. On 'Winter's Song' he creates a dichotomous effect by coating the song's lyrically wistful feel with a bright arrangement which just as easily evokes a hazy summers day.
His vocals are all early career John Martyn in his role as a watchful narrator. Jonas is also a master of phrasing, overcoming a limited vocal range with some majestic undulating deliveries. On 'Time' he cleverly double tracks his voice with Tim Tweedale's lap steel. It's the perfect meeting of voice and instrument as the duo explore the outer reaches of the arrangement. You can imagine Bob Harris drooling over this album, the perfect balance of Americana, folk alt country and hints of New Age minimalism.
Jonas Shandel's debut album is music with a hypnotic quality, brought to life by an inspired artist who appears to have drunk from the same creative well as some of his impressive fellow Canadian contemporaries. This mini album manages to convey so much in a simple way, and as such it's a masterpiece that you should investigate.
*****
Review by Pete Feenstra
---
| | |
| --- | --- |
| | Print this page in printer-friendly format |
| | Tell a friend about this page |