THE JOLLY BOYS Great Expectation GeeJam/Wall Of Sound (2010)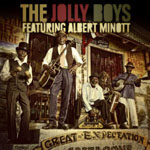 Mento is a closely related cousin of calypso, perhaps best understood as the missing between calypso, ska and reggae. It's a predominantly laid back acoustic hybrid with its own rhythm and pacing that is well suited to The Jolly Boys.
The mellifluous rhythms and rootsy vocal of lead singer Albert Minott lie at the core of the Portland based, San Antonio (Jamaica) rooted septuagenarians. The arrangements and recording is subtly overseen by producer and hip-hop label boss Jon Baker and Mark Jones from the Wall of Sound label, who collectively attempt to resurrect a musical form, last seen rearing it head in earnest in the 50's.
Mento is an easy paced, chooglin' kind of music that weaves its way in and around strong melodies. And on an album full of covers of contemporary punk, new wave, rock and country songs, it's the cuts with either a strong hook or a percussive feel that work best.
Look no further than the opening lilting beat of Iggy's 'Passenger' which offers a rock steady intro to the hypnotic groove of mento, born of a mix of banjo, mararccas and marumba box (bass) etc. It's equally well suited to the subsequent cover Amy Whitehouse's Jamaican sounding 'Rahab'.
Better still is the Jolly Boys adaptation of Brubeck influenced, Stranglers classic 'Golden Brown', where the band's percussive feel – all tablas, flute and vocals like thick molasses, brings a new dimension to the song.
The rock steady feel of 'I Fought The Law' with its gentle sax and mellifluous beat is also a fair approximate of mento's understated ability to mesmerize. The band also toughen up the back beat with heavily accented banjo and rasping vocal from Minot on Johnny Cash's 'Ring of Fire', to great effect.
But if these highlights serve to push the music in the direction of the feel good vibe, then you have to be offset those against efforts like the growling vocal on 'Do It Again' and the lamentable karaoke drift of Blondie's 'Hanging on the Telephone'.
In many respects 'Great Expectations' is a cleverly realized project that has come too late, as there are number of reggae, dub and alt. country readings of existing rock songs already out there. And while The Jolly Boys generate a ready smile alongside their insistent rhythms, on a dozen songs which are given a slightly different textural context, it would have been nice to include something original.
'Great Expectation' takes it name from a bar the band drinks in. And for the most part, the album is a veritable case of 'old wine in (surprising) new bottles' as the music has that same loose bar room feel, with gently lilting covers of well known songs. So while there are just about enough good moments to attract a non traditional audience to mento, you suspect that this is hardly the basis for a renaissance of a dormant musical form.
****
Review by Pete Feenstra
---
| | |
| --- | --- |
| | Print this page in printer-friendly format |
| | Tell a friend about this page |