Lennon in his own right...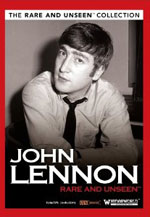 Eschewing the Beatles music in favour of an exploration of the man, this 75 minute collection of rare footage from newsreels and with the occasional talking heads, is a worthy watch for anyone with even a passing interest in the Beatles.
Thankfully, most of the pieced together material features Lennon with no voiceovers, giving an insight in his natural humour and idealistic philosophy, rather than the events of the Beatles rise and fall. And archive newsreel aside, the contemporary contributions are thankfully limited (who really cares what Phil Collins or Steve Harley think?).
Spanning the early days, through the American 'bigger than Jesus' fiasco, and beyond the break up, Lennon was never less than forthright and engaging. His passion and belief in peace and love can only be admired, even if he was somewhat blindsided to the avaricious nature of much of mankind.
It leaves you thinking what a 'normal' guy he was - even after living through and beyond the Beatles, and if more people shared his values the world would be a better place.
***½
Review by Pete Whalley