JOHN ILLSLEY Streets Of Heaven (2010)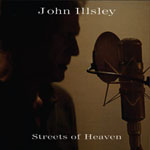 John Illsley has kept a fairly low profile since the demise of Dire Straits. Mind you, he never had an exactly high profile during the lifetime of the band, despite the fact that, Knopfler apart, he was the only constant in the band's line up.
The former Dire Straits bass player did however, release 2 solo albums back in the eighties - Glass (1984) and Never Told A Soul (1988). And since the band's termination after shipping some 120m albums he's turned to other artistic, principally painting, and business interests.
He has however kept his musical hand in, playing with Celtic rock band Cunla (culminating with the 2007 live album Live At Les Baux) and last year's Beautiful You collaboration with vocalist / singer songwriter Greg Pearle.
Streets Of Heaven therefore represents Illsley's first proper studio album post Dire Straits - 11 songs recorded in London at British Grove and co produced with Guy Fletcher.
Featuring an Irish rhythm section and a handful of old friends the immediate surprise is just how 'Dire Straits' the album sounds. There is a general perception that Mark Knopfler was the sound of Dire Straits, but on this showing it may well have been John Illsley who was the principal shaper of the band's sound. And the other major surprise is just how similar Illsley's vocal style and phrasing is to that of Knopfler.
Streets Of Heaven constantly touches on reference points plundered from the full spectrum of the Dire Straight's catalogue but manages never to sound derivative, deploying a basic and earthy sound reminiscent of the band's early period. In many ways, it's a prequel to the Dire Straits sound, rather than a sequel.
And, of course Mark Knopfler appears on a couple of tracks, but his contribution by no means overshadows the set. We may never get another Dire Straits album, but Streets Of Heaven is probably the next best thing. Especially for those who appreciated the band's roots and more reflective aspects.
****
Review by Pete Whalley
---
| | |
| --- | --- |
| | Print this page in printer-friendly format |
| | Tell a friend about this page |