JOHN HIATT The Open Road New West NW6182(2010)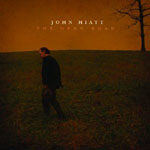 With 19 albums in the can, countless Grammy nominations and a Lifetime Achievement Ward for Songwriting, John Hiatt has been there done it and as the new CD suggests lived a lot of his life on 'The Open Road'.
But while he has become best known as a singer-songwriter, Hiatt has always struggled to translate his critical praise into direct commercial success be it through his solo albums or via higher profile projects such as the all star Little Village. That said he has achieved success indirectly by having his songs covered by Three Dog Night, Willy Nelson, Dylan, BB King and Bonnie Raitt etc, who all brought a bigger appreciation for Hiatt's deeply personal material.
And on the evidence of the new CD he still has a lot of tales to tell. 'The Open Road' is familiar territory for existing fans with its rough-edged roots rock feel. There's an opening John Fogerty style title track and a laid back reworking of Chuck Berry influenced rock & roll on 'Haulin', while the slide led big guitar figure of 'Fireball Roberts' leads us into Ry Cooder territory.
The analytical songs are reflections of the self and a lifetime's journey that remains open-ended, with the ever present possibility of taking off along the open road. But the narrator is apparently also open to suggestions of staying put as by the end of 11 tracks full of exploratory searches into the psyche he finishes with 'Carry You Back Home' a song that proclaims the power of love and the call back home; So I'm not telling, I'm asking you, Abandon all known pints of view, Honey let me carry you back home.
But 'The Open Road' is not the optimistic highway of say Keroauc as on tracks like 'Haulin' he focuses on the possibility of the drifter's potential escape. He lightly changes the emphasis of the metaphor on 'Movin On' which evokes a feeling of restlessness. There's a constant push and pull tension to his lyrics shifting from the ever present sense of motion to the opposite of stasis, especially when he seems to have found his sense of peace on 'Wonder Of Love'
He also pulls no punches when it comes to analysing himself as on the reflective 'Like A Freight Train' and lays bare a feeling of self reproach on 'What Kind of Man'. For John is an unabashed chronicler of the self - if not the human condition - who views life through middle aged eyes but always with the possibilities of what tomorrow might bring.
It's a well worn template that in many respects Hiatt created himself and while 'The Open Road' doesn't really offer any startling surprises, it is a reaffirmation of his craft built on assured lyricism and world weary singing. And while his gnarled croaky voice is partly suited to the material it is probably also the reason he's never broken out of his cult status.
Sure, Dylan and Nic Cave for that matter never could sing much but their work is carried by an instantly recognisable voice. In that respect 'The Open Road' relies more on the power of Hiatt's inner voice and the resonance of his words rather than from his singing. The narratives flow, the characters and stories may ring true and the often dark and ironic lyrics could only be Hiatt, but as a whole they are not quite outstanding enough to burn into our collective mainstream consciousness.
His themes of life, love and cultural/historical heritage as refracted through a wistful prism born of reflection and experience cut some familiar subject matter for the contemplative singer-songwriter. In fact the whole album feels as if we've been here before. Perhaps only Hiatt could have conjured up the sense of dark history bearing down on the soul as felt on 'Homeland'. He might only focuss his gaze on his subjects fleetingly and much like the headlights on the road he illuminates things momentarily leaving you wondering what we have just witnessed. But make no mistake, Hiatt has spent a life time as a narrator and the places, people and feelings he uncovers are part of a bigger picture that John is still working on.
****
Review by Pete Feenstra
---
| | |
| --- | --- |
| | Print this page in printer-friendly format |
| | Tell a friend about this page |