Just witnessed your best live gig?.. send us a review!
JOE SATRIANI, Manchester Apollo
17 October 2010
Photos by Lee Millward/GRTR!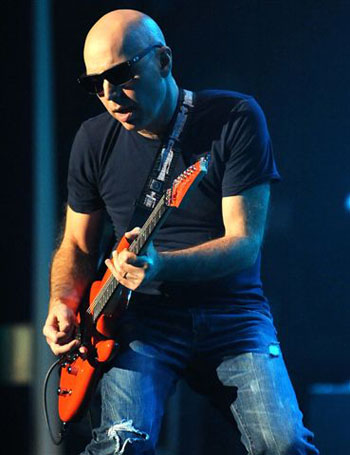 'Back Pain and Weak Bladders' might be a suggestion for the next Satriani album title judging by the to-ing and fro-ing in the front stalls. But those who sought intermittent relief would have missed precious moments from an end-to-end high octane set tonight. Indeed, we expect nothing less from the guitarmeister and, as previously, after two hours he looked as fresh as when he started.
With a new album to promote, this show was a master blend of the old and the new. And it's the greatest tribute that some of the more recent stuff stands up well to the classic eighties output.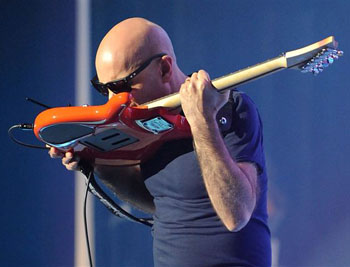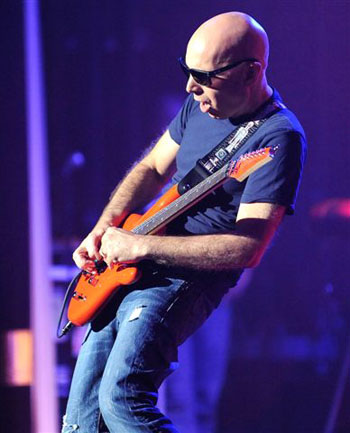 With an opening volley of 'Ice 9', 'Horde Of Locusts' and 'Flying In A Blue Dream' it doesn't really get much better than this. But of course it did. The excellent 'Light Years Away' opened up the new stuff, followed soon by another new standout 'Premonition.'
The set only sagged when he played 'Littleworth Lane' a fairly ordinary blues that also sits uneasily on the album.
The guitarist, at his best, takes the listener on a journey with his solos - endlessly inventive and involving - whilst grounding it all in a riff-based or funky undertow.
'Wormhole Wizards' with its hypnotic funky rhythm was a case in point - an excellent ensemble piece and perhaps surprisingly this was the actual line-up who recorded the album with the addition of long-time collaborator/tour manager Galen Henson (who looked like a slimmer version of Johnny Vegas). Special mention for Zappa alumni Mike Keneally whose jazzy inflections added colour and authority to the mix.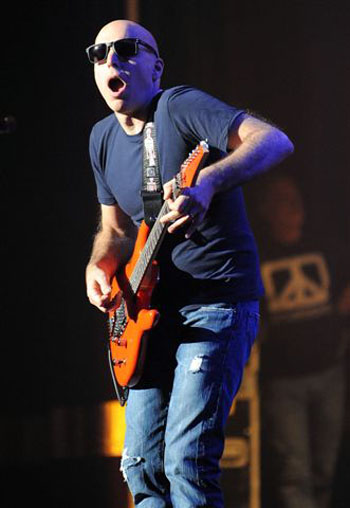 This marathon shred-fest was dotted with past glories too - a reprise for the standout tracks on the previous album - 'Revelation' and 'Andalusia' - and an outing for 'Memories' ('Not Of This Earth') and the wonderful 'Why' ('The Extremist').
No doubt some of these choices came via bulletin board banter, but I would imagine the less fixated as well as hardcore would have found something to get their rocks off tonight. As for those with weak bladders, it's their loss.

Ice 9/ Hordes Of Locusts/ Flying In A Blue Dream/ Light Years Away/ Memories/ War/ Premonition/ Satch Boogie/ Revelation/ Pyrrhic Victoria/ Crystal Planet/ The Mystical Potato Head Groove Thing/ Dream Song/ God Is Crying/ Andalusia/ Littleworth Lane/ Why/ Wind In The Trees/ Wormhole Wizards/ Always With Me Always With You/ Big Bad Moon Encore: Crowd Chant/ Summer Song
Review by David Randall
Photos by Lee Millward/GRTR!
---
---