Just witnessed your best live gig?.. send us a review!
JOE BONAMASSA Hammersmith Apollo, London
28 May 2010
Photos by Noel Buckley (except where indicated)
Photo Gallery by Christie Goodwin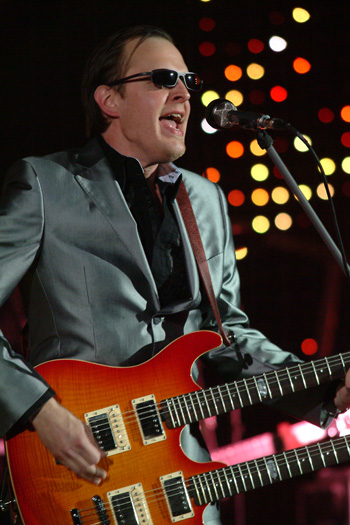 He may be the 'Classic Rock Breakthrough Artist of 2009' but tonight guitar hero Joe Bonamassa stuck squarely with the blues. It was a brave decision given and the size of the venue and his rumoured forthcoming rock project with Glenn Hughes etc. But when you are a technically gifted guitarist bristling with confidence and fronting a top class band you don't deal in doubts but only with the potential triumphs in filling a landmark rock venue full of your fans.
In fact Joe is many things to many people, the polar opposite of some of his ego driven one dimensional musical contemporaries. He is a guitar hero for the new rock/blues generation as well as a major stylistic influence. And in a broader context he is also a commercial barometer of the times.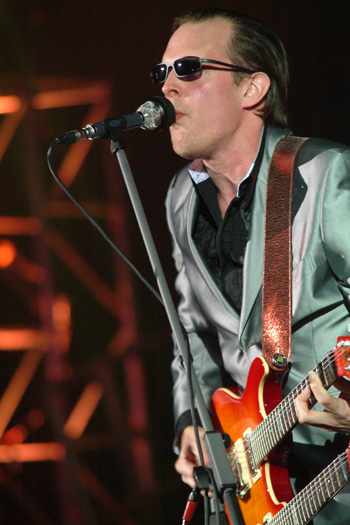 But tonight as he belatedly explained this was 'the biggest crowd I've played to'. And with that in mind he had obviously paid due attention with thoughtful pre planning.
The result was an elaborate stage set comprising an illuminated back drop with two relatively unused descending walkways and an adjoining gantry. The latter was sparingly used for a trademark solo, an occasional strutting rock pose (albeit in a silver suit and shades) and a cursory sweep of the hand over his theramin.
Additionally there were two plinths situated right and left at the front of the stage, both judiciously used with military precision before he returned centre stage as a one man blues rock powerhouse in front of a musically excellent but very static band.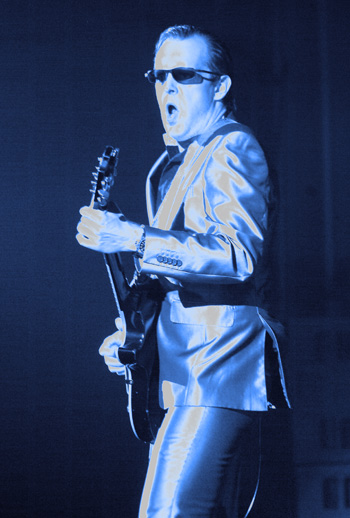 And if there was a minor reservation about tonight's exhilarating show it was simply that one man can only do so much. And given the slightly muddy sound mix in the first third of the show it was left to Joe's instinctive ability to conjure up light and shade through a range of tone colours and incisive soloing on 'So Many Roads' and the piercing riffs and pounding beat of the slow blues 'If Heartaches Were Nickels', to soar above the gentle rumble.
Things improved noticeably on 'Sloe Gin', another song on which he showed himself to be the master of dynamics. And having achieved base camp, he pulled an unlikely rabbit out of the hat by premising a cover of Tull's 'New Day Yesterday' by introducing the song's author, Jethro Tull's Ian Anderson.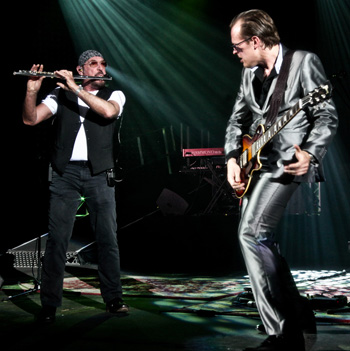 Photo: Christie Goodwin/ Gallery
A great choice this, as Anderson should surely be revered not just for his showmanship and flautism but also for predating Joe's recycling of the blues by three decades.
In the event, they alternated verses and while Ian blew, waved, pranced and even very briefly stood on one leg, it was the duo's interplay that brought a real emotional moment to the evening.
The subsequent cover of Tull's 'Locomotive Breath' included barely one verse before the solos and saw Ian hamming things up a little, but - hell - after 40 years as one of rock's senior statesmen he probably had every right.
Curiously Joe chose to dip back into his penultimate 'Ballad of John Henry' album for both 'Lonesome Road Blues' and the mellifluous groove and Dave Gilmour style guitar of another highlight 'Happier Times'.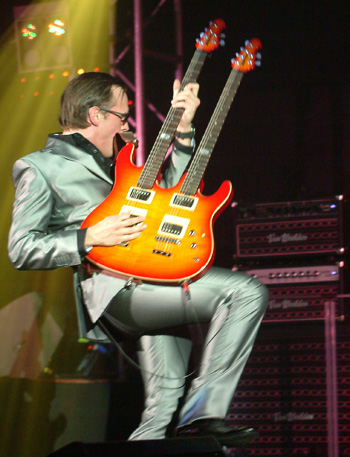 Perhaps it was a wise move to steer clear of the big Zeppelin style production moments of 'Black Rock', but it wasn't long before the Jimmy Page influenced 'Blue & Evil' redressed the balance.
Joe also slipped the guitar motif from 'Dazed & Confused' into the closing 'Just Got Paid' as if to hammer home his central musical reference point. Given such a preponderance of classic rock and blues influences in Joe's music you can almost feel he's tapping into the kind of collective unconscious of the first wave of The British Blues invasion that cements his crowds sense of expectation.
In fact any semblance of the unconscious was blown asunder by an unexpected and abrasive reading of The Who's version of Mose Allison's 'Young Man Blues'.
No 'When The Fire Hits The Sea' or 'Quarryman's Lament' then, but more than enough 'good stuff' to send his adoring fans home happy via an extremely busy merchandise booth.
Last time it was the grandeur of the Albert Hall, this time the legendary Hammersmith Odeon turned Apollo, but whatever the context or venue Joe seems more than happy and more than capable of delivering.
Review by Pete Feenstra
Photos by Noel Buckley (except where indicated)
Photo Gallery by Christie Goodwin
---
Album review and video interview
Joe Bonamassa Special and interview on Get Ready to ROCK! Radio, Sunday 30 May 22:00 GMT+1
---