Just witnessed your best live gig?.. send us a review!
JOAN JETT & THE BLACKHEARTS, 100 Club, London
14 June 2010
Photos by John Rahim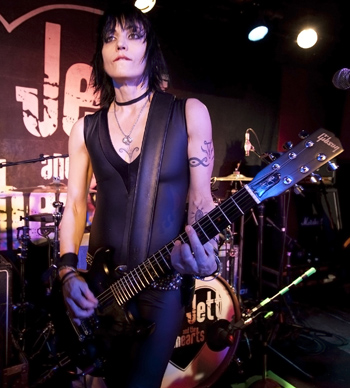 What with a forthcoming Runaways bio pic, a 'Greatest Hits' collection and a stadium tour with Green Day on the horizon, these are exciting times for Joan Jett. Then there's the little matter of this, her first UK club appearance for 20 years at the iconic 100 Club which sold out in 4 minutes. Clearly Joan Jett is living up to her status as a 'permanent force in mainstream culture'.
And while tonight's show surpassed all expectations, it also illustrated why her fist pumping, chant along hooks and Goth good looks remain the perfect conduit between standing on rock's periphery and claiming the centre stage.
Clad top to toe in a black cat suit with jet black hair and mascara, Joan appears perfectly preserved in aspic, circa 1981. Her brand of pre-Riot Girl fem-rock recalls a time when rock finally eschewed its punk clothing and embraced fist pumping tribal chanted choruses. And while Joan undoubtedly makes a connection with her adoring crowd through coherent intros, cursory waves of the arm, a warm smile and some occasional rock strutting. she's essentially a wily band leader who understands the importance of the show.
In some respects her image is partly at odds with her natural exuberance and a result the more risqué songs are often stripped of any sense of their darker imagery.
Sure the opening 'Bad Reputation' made its impact via its vacuous punk refrain and the cover of The Replacements humorous 'Androgynous' proved to be an enjoyable sing-along exposition of blurred sexual edges complete with four part harmonies.
But just like the power chord rocker 'Love is Pain', which made the most of another catchy chorus without really embracing the lyrical meaning, it was almost as if the sexual oriented lyrics were little more than attention seeking device.
Indeed having clearly connected with the anthemic quality of the chorus, Joan seemed momentarily oblivious to the female voices in the crowd who at the song's conclusion continued the chorus on their own.

On the expansively introduced 'Fetish' - 'an object believed to have spiritual powers, an object of excessive attention, a reference, fixation' - she did turn her back to the crowd and wiggle suggestively in front of the drummer; albeit with a sense of humour sharply at odds with the meaning of the song.
Perhaps it's all to do with Joan's vivacity and rock's need for the grand gesture. After blazing into 'Cherry Bomb, she's shouted out, 'its nice n' hot and sweaty, let's have some fun, don't be shy' and counted the band into Springsteen's rocking 'Light of Day'. This song neatly encapsulated all that is good about The Blackhearts from Joan's rasping vocals and her pounding rhythm section to the visceral guitar breaks. It was simply good old rock & roll at its best!
And either side of the inevitable school disco chant of 'Do You Wanna Touch Me? (Oh Yeah)' the band rocked out impressively on 'Victim of Circumstance', which she announced twice at the end of the song as if to remind us how good it was.
But there was more to come with the Keith Richard style 'I Love Playing With Fire' and the T Rex flavoured riffs of the Runaways favourite 'You Drive Me Wild'.
Joan also added some emotive phrasing on the self revelatory 'Naked' which proved to be a much better song than the punkier 'Fake Friends'. And by the time of the heavier 'Fetish', the 100 Club was seriously rocking before the band quickly segued into an MTV flashback of 'I Love Rock & Roll'.
The euphorically received 'Clover & Crimson' ensured an encore, with Sweet's 'AC/DC' being a belated return to the ambivalent Glam Rock era that will forever be part of Joan Jett's rock & roll persona.
But while Joan Jett & the Blackhearts may be a rock band in sheep's clothing, as they showed tonight they're still capable of biting your ass.
Review by Pete Feenstra
Photos by John Rahim. All rights reserved.
---