JIMMY WEBB Just Across The River E1 Music/RSK (2010)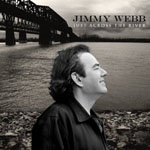 Jimmy Webb's 'Just Across The Water' is a timely reminder of one of the great song writers of our generation and a fine vocalist to boot.
Jimmy's stellar career goes back to the mid sixties. He's also the only artist ever to receive Grammy Awards for music, lyrics and orchestration. But in truth, it's one thing to write some of the greatest songs ever and quite another to go back and reappraise them with an array of top guests. But with producer Fred Mollin at the helm and with the avowed intention to honour Webb's 'contribution to the Americana roots tradition', this album strikes the perfect balance. Beyond that Jimmy's also got the pressing concern of what to leave out. And the fact songs like 'McArthur Park' and 'Up, Up & Away' fail to make the 13 cuts tells you something about his prodigious output.
He sets out his stall on the opening 'Oklahoma Nights', a duet with Vince Gill full of great harmonies and lyrics about the people and the place he knows so well;
'Want to see some friends of mine. True loving people whose hearts are kind' and
'Panhandle people who understand'
Imagine going back to songs like 'Wichita Lineman', sung with Billy Joel and trying to emulate something that is already perfect. The following lesser known 'If You See Me Getting Smaller' with Willy Nelson and perfect Bv's is surely one of the album highlights, no mean achievement given the excellent songs here.
But there's a natural feel of the whole album born of Jimmy's confidence in his material and the guests who all bring their respective talents to bear on classic songs. Jackson Brown for example, adds fine harmony singing to Webb's song about his fellow wordsmith P.F.Sloan while Jimmy's own vocal performance is probably the most striking on 'Galveston' where he takes the lead line on another duet with Lucinda Williams.
Webb himself sees the album as 'a conceptual work of art' and given both the songs and the excellent performances nobody is about to argue.
It has certainly become an industry exemplar to record your best material with high profile guests, but lets face it if you can bring something new to a standard then you are ahead of the game.
But Jimmy always was always ahead by virtue of song writing, the imagery, the narratives, and his choice of subject matter. There's even an appearance by the legendary Glen Campbell who reprises his Grammy smash 'By The Time I Get To Phoenix' (though he doesn't feature on his other Webb penned hits here). 'Phoenix' is a good example of a different less dramatic arrangement but it still full of eloquence and emotion.
'Cowboy Hall of Fame' is another highlight being beautifully arranged and full of piano/banjo/strings and glistening CSN style harmonies. There's a surprising mid-song shift in tempo on the back of Stuart Taylor's violin break before Jimmy returns to pursue the narrative over another spirited chorus. He similarly steps out solo on the Country ballad 'It Won't Bring Her Back' on which the harmonies, violin and pedal steel perfectly evoke the lyrical content.
Braver still is the reappraisal of 'Do What You Gotta Do' as a country song rather than full blown emotive gusto of the Nina Simone version.
The West Coast inspired 'Where Words End' features Michael McDonald on another moving ballad full with a sweeping string arrangement. Mark Knopfler also stops by to add some Dylanesque, world weary lyrics to great effect on Country ballad 'Highwayman'.
And while the closing duet with Linda Ronstadt is perhaps a low key finish, the glistening harmonies and phrasing are probably what Jimmy always had in mind on a song were the emotional highs and lows are perfectly emoted by both singers.
'Just Across The River' is simply the best of the American song book written sung and arranged by a genius called Jimmy Webb.
*****
Review by Pete Feenstra
---
| | |
| --- | --- |
| | Print this page in printer-friendly format |
| | Tell a friend about this page |