Just witnessed your best live gig?.. send us a review!
JASON & THE SCORCHERS
Relentless Garage, London 8 May 2010
Photos by Noel Buckley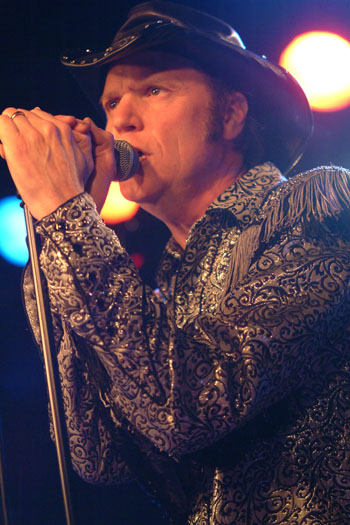 Jason & The Scorchers are in town promoting their new album 'Halycon Days', their best release since the classic 'Lost & Found' released way back in 1984. Playing their unique blend of American country music with a hard rock punk edge.
A band that have heavily influenced Ginger from the Wildhearts, so much so in fact that Ginger has performed with the band on numerous occasions and helped in writing some of the songs on the current album. Imagine a party held by Kenny Rogers being gatecrashed by The Wildhearts and you get an idea what the band sound like.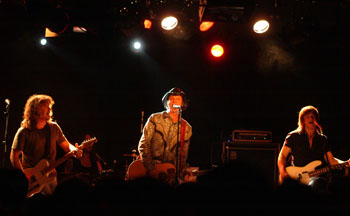 Tonight the band are doing what they do best, performing live to an enthusiastic crowd who have taken the band to their hearts. Jason & The Scorchers are one of rock's best kept secrets and the majority are missing out on the fun.
No less than eight new songs are in the set tonight and on other Europeon dates the band have been alternating more new tracks from 'Halycon Days' into the set. So much confidence The Scorchers have in their new piece of work.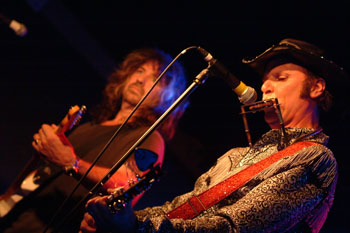 Fronted by the loveable Jason Ringenberg who is constantly smiling and storytelling between numbers. In his cowboy Stetson hat and gold tasselled jacket, the man is bucking around during the songs looking as if he is doing the rodeo. Guitarist Warner E Hodges was last seen here with Dan Baird, is back to where he belongs performing with Jason who both make a great double act.
On a couple of the acoustic numbers like 'Bible And A Gun' Jason comes across like a Bruce Springsteen after emptying a bottle of Jack. All the new songs fitted alongside the older numbers with ease, but it it still those songs from the mid-eighties that are sure fire winners.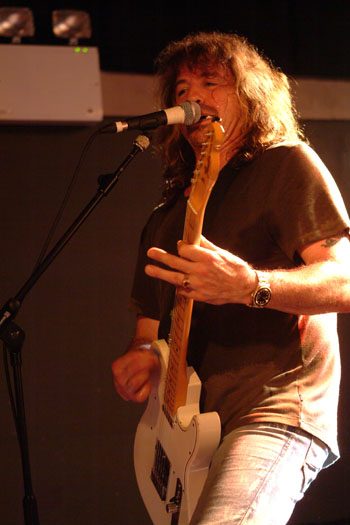 'Broken Whiskey Glass' demands audience participation featuring the line ''Here lies Jason ... strangled by love'' and 'White Lies' is a corking rocker which features some fine guitar slinging from Hodges.
Another highly enjoyable night from the band. They are called The Scorchers for a reason, they are red hot.

Set List : Mona Lee / Shop It Around / Absolutely Sweet Marie / Land Of The Free / Beat On The Mountain / Last Time Around / Twang Town Blues / I Can't Help Myself / Mother Of Greed / We've Got It Goin' On / Jeremy's Glory / Bible And A Gun / Help There's A Fire /Drug Store Truck Driving / Deep Holy Water / Broken Whiskey Glass/ Moonshine Guy / White Lies

Review by Mark Taylor
Photos by Noel Buckley
---