2008 reformation for classic line-up ...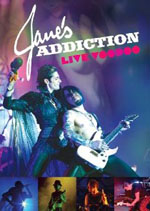 Jane's Addiction originally split up in 1991, just as the band's 3rd album 'Ritual de lo Habitual' propelled them into the big time. The band subsequently reformed briefly in both 1997 and 2001, but bassist Eric Avery was missing on both occasions- however, when the band decided to reform for a 3rd time in 2008 it was the first time that their classic line-up had played together in 17 years.
'Live Voodoo' captures the band's Halloween Night 2009 performance in New Orleans and finds the band in spectacular form. From the uber-cool front man Perry Farrell - swilling bottles of red wine throughout the show, to Avery's pounding bass and the sharp guitars of Dave Navarro- the band are full of relentless energy and have rarely sounded better.
Subtle opening track 'Up The Beach' and the slow, rambling 'Then She Did...' are joined by the full tilt 'Stop!' and 'Ocean Size', the reggae edged 'Ted, Just Admit It', the acoustic 'Jane Says' and, of course, the track the band are probably best known for- 'Been Caught Stealing', without a doubt, the highlight of the bands set. There are also a couple of interesting songs in the sparse, yet not empty, 'Summertime Rolls' and the set closer 'Chip Away'- a track that has a tribal drum feel which accompanies the vocals without the need for any other instruments.
Bonus material includes 2 extra tracks recorded live in L.A in 2008, 'Ocean Size' and the superb '1%'. There is also an NME featurette on the band, including backstage footage and interviews, and a photo gallery.
With Avery electing to leave the band once again, his place taken (for now) by ex- Guns N Roses and current Velvet Revolver man Duff McKagan, this DVD is a great live document to the slick show put on by Jane's Addiction.
****
Review by Nikk Gunns