JAMES LABRIE Static Impulse Inside Out (2010)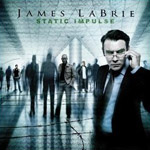 In 2005 the Dream Theater vocalist released 'Elements Of Persuasion', one of the better prog/metal albums of that year and showcasing the guitar skills of Italian Marco Sfogli.
Needless to say, although well received the album didn't exactly set the world on fire. The album wasn't toured extensively in Europe, as LaBrie juggled his Dream Theater duties, with only one London date to promote it. A few years later and LaBrie is having another go, keeping the same Matt Guillory/Sfogli axis and adding Ray Reindeau on bass and Peter Wildoer on drums.
Wildoer is a key factor in LaBrie's current approach, adding metalcore vocals on several tracks. Wheras 'Elements' was genuinely fresh and exciting with its blend of heavy metal and electronica, 'Static Impulse' could be anybody from In Flames via Shadows Fall, Evergrey and even Bullet For My Valentine.
Opener 'One More Time' sets the pace with Wildoer doing the screamo bit. It's startling, not just because of the shared vocals but also the lack of originality. 'Jekyl & Hyde' is more of the same.
Sfogli was truly impressive on the last album but here he is a lot more restrained. This is a major change from the previous outing when GRTR!'s Yiannis Stefanis noted he vied equally for attention with LaBrie's vocal. Tellingly, it is Sfogli's demo mix of Jekyl & Hyde (included on the limited digi-pak as a bonus) that adds a little more clarity to the guitar that I think is lacking overall.
There is relief from the pile-driving metal with two album standouts: 'Just Watch Me' and the calm of 'Coming Home', the sort of ballad which LaBrie does so well.
The album is a grower and after a few plays there is a nagging familiarity with these tracks. On that basis alone it tempers the metal - the shock that it's not 'Elements Part 2' - with an attractive accessibility and the main vocal work and harmonies are all top-notch as you'd expect.
****
Review by David Randall

---
| | |
| --- | --- |
| | Print this page in printer-friendly format |
| | Tell a friend about this page |