JADE WARRIOR Now Repertoire REPUK1129 (2010)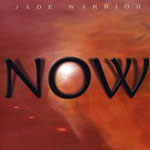 With a troubled past including the sad loss of guitarist Tony Duhig, Jade Warrior's 'Now' is an unlikely triumph and career milestone. Steeped in Prog rock history and infused with a survivor's sense of grasping the moment, the aptly titled 'Now' is a work that draws on the past to reshape the present.
Jade Warrior's history is intrinsically tied in with the late 60's Prog label, Vertigo Records for who they recorded 3 albums and a belated compilation. The spiralling black & white label used to hypnotise its listeners and this album does pretty much the same.
The band was later championed by Steve Winwood who helped sign them to Island records. But they still had to battle for their existence - and then only as a duo - eventually cutting 4 albums before belatedly returning in the 90's on Voiceprint.
But for many the name Jade Warrior will remain forever associated with the early 70's Prog rock scene until 'Now' that is! The 2010 Jade Warrior brilliantly updates both m usic and expands the band's profile on an excellent record. According to vocalist Glyn Harvard, Jade Warrior's name much like the music itself is tied in with drama. The name is a reflection of the soft (Jade)/hard (Warrior) nature of their songs.
The quiet/loud dynamic which was also to be found in similar bands of the time like Family and King Crimson remains an integral part of their music. 'Now' makes a quantum leap from the early 70's to 2010 via the same musical dichotomy which has since become the bedrock of so much contemporary music.
'Now' is full of Proggy themes and ideas which occasionally mirror both Crimson and Floyd. It is for the most part intense, hard-driven and by turns contemplative, gentle and always imaginative. Structurally, the band never veer too far from their core quiet/loud dynamic, but they do colour their palate with a beautiful wash of acoustic, jazzy and proggy hues.
There's also a constantly changing subtle variation in Glyn's vocals, particularly on 'Fool & His Bride', with its whispered lines, phased vocals and jazz phrasing. Then there's the close to the mic clarity of 'Journey' and the processed voice of 'Lost Boys' which evokes Dead Can Dance's Brendan Perry, as well as the cod rock and roll vocal intro of '3am Meltdown'.
On 'Screaming Dreams' Glyn adds a rapped out intro leading to some heavy riffed drama while the accapella intro to 'Everything Must Pass' is the perfect foil for a song that has an uplifting panoramic sweep.
In many respects 'Now' should be approached as suite in which each song is an interrelated part of a greater whole. The mix of eclectic, poetic and at times perplexing lyrics float nicely over a musical stream of consciousness that meanders restlessly through different time changes and radically shifting musical styles.
What makes Jade Warrior different from their Prog contemporaries is that they readily explore some contrasting musical directions in one song, let alone an album. 'Now' has the exploratory feel of a fluid musical journey over a jagged rocky terrain.
The CD opens with some jazzy brush strokes and a bluesy feel on 'Fool and his Bride' before a choral based nightmarish ending. There's a Lounge Music feel to the aptly titled 'Journey' which could easily have been the title of an album itself. The acoustic guitar and Jon Field's flute led piece also references a rhythmic Bossa beat and is full of lush synth sweeps and jazz tinged percussion which gives it an overall feeling of cool. The uplifting melody line and beautifully realised soprano sax solo from Theo Travis colours what is essentially a melancholic tale.
Much of 'Now' is predicated on Jade Warrior's subtle use of layered sound which helps create a series of evolving soundscapes punctuated by sharply contrasting musical sections. The fractured melodies, languid keyboard lines, jagged riffs, deep-toned horn and delicate percussion are all glorious rooted in Dave Sturt's fretless bass lines.
It all comes together beautifully on the subtle brush strokes, sonorous bass, plucked stringed cool, ethereal flute and warm poetic lyrics of 'Tall Trees'. The clouds part, the complex quirky time changes suddenly disappear and leave a shimmering melody all wrapped up in an eastern flavoured flute led outro which is bathed in echo and reverb.
And as if to emphasize the ebb and flow of the album, the piece segues into the wind tunnel intro of the claustrophobic '3am Meltdown'. 'Meltdown' is full of Gentle Giant and King Crimson's 'Red' era riffs and a contrasting pastoral melodic landscape.
If we judge Prog rock by the songs, the complex structures (and their subsequent resolution) the lush instrumental passages, virtuoso solos and eclectic lyrics, then Jade Warrior clearly deliver the goods.
'Now' is an album that restores your faith in exciting, challenging rock music, full of real substance, compositonal complexity and musical eloquence. There may be a lot going on at any one time, but it's a creative restlessness that ultimately pushes the band toward some cutting edge music.
*****
Review by Pete Feenstra
---
| | |
| --- | --- |
| | Print this page in printer-friendly format |
| | Tell a friend about this page |