JACKSON HEIGHTS Reissues Esoteric (2010)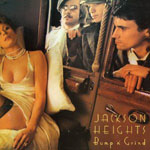 When The Nice folded in 1970, bassist/vocalist Lee Jackson sought refuge from its excesses in mellow, close-harmony country-influenced soft rock, the development of which, from winsome to full-blown, is charted in this three-piece's trio of newly re-mastered releases for the Vertigo label.
1972's Fifth Avenue Bus is a slight affair in cod-Americana, the material pleasant if undramatic, the spare, lightweight acoustic delivery in sore need of grunt, notwithstanding the presence of King Crimson drummer Michael Giles, who does the honours on all three releases.
Bona fide Americans such as Crosby Stills and their like were anyway on this case to greater and more credible effect and, perhaps sensing this, the band quickly turned out that year the most satisfactory of these three in Ragamuffin's Fool, it's elvish cover illustration as if by way of asserting the band's British DNA. Co-writes by keyboardist Brian Chatton with Jackson and guitarist John McBurnie skewed the act's offer positively, adding to its reach and levening proceedings with a more distinctive identity.
Chatton's dexterous playing is to the fore, with notable charge on jazzy 'Catch A Thief', while Jackson's revisiting The Nice's 'Chorale' from Five Bridges Suite has charm and some pathos. ***
At this point Vertigo decided it was time to go pull out the stops, hauling in a full orchestra for 1973's Bump 'N Grind. With even more special guests than usual, including drummers Ian Wallace and Deep Purple's Paice (together on one track!) and ace session fiddler Johnny Van Deryck, it's a confident, breezy assemblage of big production numbers (the title track and 'I Can Be Your Orchestra') sitting somewhat awkwardly with progressive pop ('Cumberland Country', 'Ladies In the Chorus'). ***
Despite housing strong, commercial material with quality production from Jackson, the album fell between stools, failing to meet any specific taste sufficiently to elicit purchase. The debut, then, too little, the finale, too much - leaving the Ragamuffin probably the most representative of a talent that didn't quite find its audience.
Review by Peter Muir
Peter Muir presents "Progressive Rock Fusion" on Get Ready to ROCK! Radio, Sunday 19:00, Monday 19:00
---
| | |
| --- | --- |
| | Print this page in printer-friendly format |
| | Tell a friend about this page |