JACKDAW4 Retrospectacles Fixit Records (2010)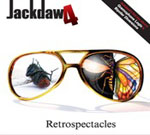 This is what you'd call pure pop rock bliss... Jackdaw4, the brainchild of Willie Dowling (The Wildhearts/Honeycrack/The Grip), have their two albums released to date, 'Gramaphone Logic' and 'Bipolar Diversions' released together along with four bonus songs.
'Gramaphone Logic' holds many aural delights including 'The Day I Wrote The Back' and 'King For A Day', both would have been hits in a parallel universe. 'Stupid' and 'This Is Your Life' show Willie Dowling has nice black humour to his lyrics as well as the talent for instant melodies. Quite why this album never made a bigger splash is a mystery. 2008's 'Bipolar Diversions' saw the rock turned up slightly with 'My Little Gangsta' containing one of the great lines of our time 'Do you call your mother bitch right afer she's served your meal.' All this is backed by very jolly music and the following track 'Heimlich's Manoeuvres' takes music hall into the modern world. Just imagine what Willie Dowling and Neil Hannon of the Divine Comedy could come up with! 'Illuminati' is another song perfect for daytime radio. This album just about shades the debut album.
The four bonus tracks include 'Anyway' which can be heard on early episodes of TV's 'Armstrong & Miller' show. An acoustic version of 'King Of Misery' is most welcome, a song from one of Willie's early bands Honeycrack. There is an acoustic version of 'Strange Attraction' from the debut album and the upbeat 'Day Time Soap Queen' rounds off the bonus material in style.
Jackdaw4 are simply too good to miss and if you like bands like Cheap Trick, The Divine Comedy and the Lightning Seeds then grab this now!
****½
Review by Jason Ritchie
---
| | |
| --- | --- |
| | Print this page in printer-friendly format |
| | Tell a friend about this page |
***** Out of this world | **** Pretty damn fine |
*** OK, approach with caution unless you are a fan |
** Instant bargain bin fodder | * Ugly. Just ugly
get ready to rock is a division of hotdigitsnewmedia group