Months later Hutchence was dead...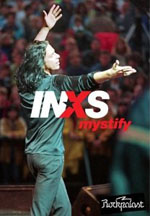 Back in 1997 INXS, having spent a couple of years in the musical wilderness, were riding high once again - they were touring the successful, and critically acclaimed, comeback album 'Elegantly Wasted' and were due to complete a 20th Anniversary tour of their native Australia.
Then in November 1997 came one of the most notorious rock n' roll deaths of them all, singer Michael Hutchence was found dead in his Sydney hotel room in circumstances that have been written about more than enough over the past 13 years.
This show was filmed at 1997's Loreley Festival in the June of that year for Germany's 'Rockpalast' series and is a stern reminder of just what a great band INXS are, and indeed what a great frontman Michael Hutchence was. They are a proper rock band who delivered perfect pop singles, whilst Hutchence's voice is powerful and his stage moves are partly borrowed from Jim Morrison - and subsequently still a part of Bono's stage persona (the two were great friends over the years), as a frontman there are not many that come even close.
The band's 18-track set list includes no less than ten UK top 40 singles and a handful of tracks from the recent 'Elegantly Wasted' album. This is a great show packed with such hits as 'Need You Tonight', 'Suicide Blonde', 'Never Tear Us Apart', 'Mystify', 'Devil Inside' and 'New Sensation'- there is a great moment during 'Need You Tonight' when the all the band stare at Kirk Pengilly when, during his sax solo, they realise that he is not miked up properly and oblivious to the fact that he cannot be heard.
When this edition of Rockpalast originally aired, I had a friend in Germany video it and send me the tape and it has long been a staple of my collection. I, and many other fans of the band, will be glad that this show has now been released on DVD and the performance itself is amongst the band's best. It also goes some way to wiping out some of the more sordid headlines which were associated with Hutchence prior to and after his untimely death.
****
Review by Nikk Gunns