INVERTIGO Next Stop Vertigo (2010)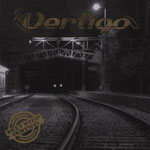 Why is it, with a few notable exceptions, fans of progressive rock increasingly have to cast their eyes towards continental Europe in search of a new fix of their favourite genre? Bands such as Riverside, Believe, Satellite (all Polish), RPWL (Germany), Sunchild and Karfagan (Ukraine) and Katatonia (Sweden) are all carrying the torch long left behind by British bands.
Add to this list Invertigo - a five-piece from the Ruhr area of Germany, offering up everything the modern prog fan could wish for on this, their debut album.
Next Stop Vertigo is an excellent six track neo-prog album, not without its flaws, but delivering enough to keep any fan of the genre satisfied and in excited anticipation of how good this band could be if their potential is fulfilled.
No track clocks in at any less than seven minutes (how prog is that?), but interest is sustained throughout with wonderful variations of tempo, interesting lyrics and a real sense of purpose all aligned to outstanding musicianship.
The two best tracks bookend the album - 'Vertigo', the opener, sets the tone with its banks of keyboards and juicy guitar riffing, while 'Saturday Evening' finishes things off in great style, leaving you with the feeling of wanting to hear more - as every good album should. The weak link, perhaps, is 'Take Your Time' which is slightly jazzy at times and sounds like Jools Holland has muscled himself in for a session (if you've seen 'Later' you'll know what I mean).
All in all though, a very satisfying debut with potential by the bucketful, and having the advantage, almost unique among European prog rock, of a vocalist who delivers a virtually accent-free performance.
I hope they make a few bob out of this because I reckon that, given the opportunity, album number two could be a bit special.
****
Review by Alan Jones
---
| | |
| --- | --- |
| | Print this page in printer-friendly format |
| | Tell a friend about this page |