Just witnessed your best live gig?.. send us a review!
IGGY POP
Hammersmith Apollo, London, 2 May 2010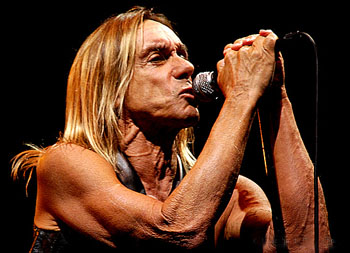 When original Stooges guitarist Ron Asheton sadly passed away in 2008, many felt that the reunion of Iggy Pop & The Stooges was a joyful short lived time that would be laid to rest and Iggy would go back as a solo artist.
In 1973 James Williamson replaced Asheton on guitar demoting him to bass duties to play on the 'Raw Power' LP. When the Stooges imploded Williamson stayed loyal to Iggy playing on a few solo records before retiring from the music scene altogether. When the band reformed in 2003 (Without Williamson) Ron Asheton refused to play any of the 'Raw Power' material.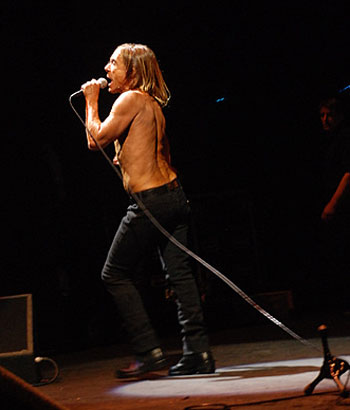 It is rather ironic that James Williamson after years of exile has been asked to replace Asheton a second time, and, with his sad passing, frees the band to perform the classic 'Raw Power' LP in it's entirety.
Performing the album in random order, opening up with the title track followed by the explosive lyrics to 'Search And Destroy', Hammersmith was rocking. Iggy Pop was soon stripped down to the waist. Growing old disgracefully at 63 years of age stage diving into the crowd at any given oppurtunity.
Three songs in and Pop's trousers are hanging around his midriff with his backside clearly on display strutting around the stage as if he's desperately making a dash for the loo.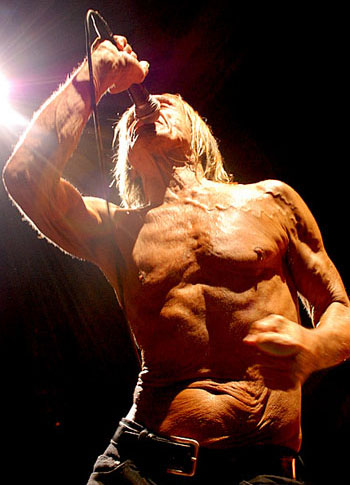 The band are on fire. Ron Asheton's brother Scott keeping hold at the back on the drums, Williamson keeping his head down not watching the shenanigans of his frontman and some mind blowing sax to the max from Steve Mackay who brought some new life to these Raw Power tracks.
Iggy invited a stage invasion for 'Shake Appeal' for which many duly obliged, with Iggy out front being hugged by the lucky ones on stage. I would've got up there myself but I didn't want to spill my pint. Iggy followed this by yet another stage dive.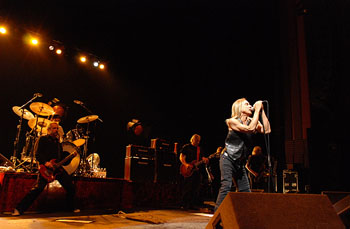 After the album had been played in full we were treated to other songs from around the time. 'Cock In My Pocket' may explain how Iggy was holding his trousers up, 'I Wanna Be Your Dog' set the energy levels to a high and a knock out metallic version of 'Open Up And Bleed' ending the main set with Iggy Pop throwing his microphone into the crowd saying ''I'm gonna give you the mic, make some noise with it'', we didn't need a microphone to do that.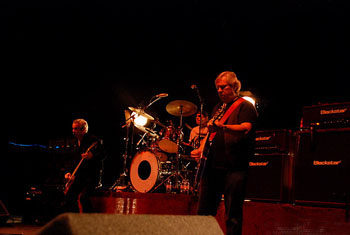 Whilst watching this gig, I soon realised where The Sex Pistols, The Clash and even Hanoi Rocks all stole their trade. I don't know exactly what category you would file Iggy Pop & The Stooges under, but this was rock'n'roll. Hammersmith was turned into one big fun house tonight. Contender for gig of the year.

Set list : Raw Power / Search & Destroy / Gimme Danger / Your Pretty Face Is Going To Hell / Shake Appeal / I Need Somebody / Penetration / Death Trip /Cock In My Pocket / I Got A Right / I Wanna Be Your Dog / 1970 / L.A Blues / Night Theme / Beyond The Law / Open Up And Bleed ..encores .. Fun House / Kill City / Joanna

Review by Mark Taylor
Photos by Lynne Saunders/Moonshayde Photography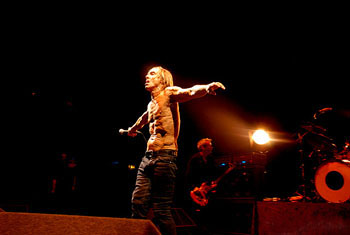 ---