IAN SIEGAL The Dust Nugene NUG803 (2010)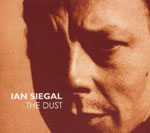 As Ian Siegal's PR accurately boasts, this album is 'minimum production and maximum mood'. The acoustic 'The Dust' is given a timely re-issue even if it might confuse some new found Siegal fans who have just become enamoured by the brusque band leader. This is an album that could only have been recorded by a die in the wood blues man, who is equally at home in solo and duet format armed with little more than an acoustic or resonator guitar and accompanying whisky soaked vocals.
It's an album by a man who carries the weight of a lyric via some world weary deliberate phrasing or via a vocal that slips from a growl to an ache and who can convey a mood by the slightest accent on a word. On Steve Earle's druggy 'CCKMP' and the gruff reading of 'Southern Cross Blues', he breathes the vapour of the blues all over both tracks.
But he's never one dimensional as he searches for meaning and expression just impressively in an Americana setting - as on the western narrative of 'Th e Silver Spur' and 'Between the Stirrup and the Ground' - as in his beloved down home blues. But if you are searching for the essence of this obdurate bluesman who often reveals fragments of the self in his lyrics, then look no further than his name checked heroes, the great Harry 'Plummet Airlines' Stephenson and Glaswegian wild man of the blues, Big George (Watt), who live their lives the way they play their music.
Ian's own narratives are often stories in miniature and on balance he achieves that rare feat of an Englishman from Nottingham beating the practitioners of the blues genre at their own game. By the time BJ Cole adds his heavyweight pedal steel on a cover of the aching 'I Drink', you are right there in a mid-west bar with a story full of doomed poignancy. It's a killer song that perhaps only Ian could have reinterpreted, and he does so with aplomb.
He is not averse to digging deep into his soul for the Wolf meets Beefheart opening of 'Stranger Clothed in Linen' a nd adds a caustic growl on the red raw 'I'll Fly Away'. He also impresses with the Tom Waits inflected Dirt Road' on a bluesy journey that takes you right to the core from the whisky soaked stories to the gospel refrains and beyond.
The rest of the album comprises 4 live outings that merely confirm what you suspected all along, that Ian Siegal is the real deal, from his guitar playing to his emotive phrasing and primal growl. He sweats the blues on 'Brand New High Sherrif Blues' and strips it right down to the bone on the concert favourite 'Mary Don't You Weep'.
This album is already 2 years old and Ian has since ascended the ladder of success across Europe, but this is a back to the roots project that remains an essential part of his recorded canon.
****
Review by Pete Feenstra
---
| | |
| --- | --- |
| | Print this page in printer-friendly format |
| | Tell a friend about this page |