IAN McNABB Great Things (2010)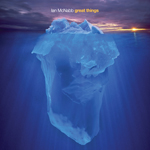 Best known for his time as leader of The Icicle Works - the Merseyside band whose star burned brightly but briefly on both sides of the Atlantic between 1983 and 1988, McNabb has, since those heady days, kept a loyal cult following happy with a steady sting of releases, culminating in a 2006 25th anniversary Icicle Works reformation tour.
Whether that tour finally closed that chapter of McNabb's career, only time will tell, but with Great Days he's decided to take a step outside of his comfort zone taking six months between January and June 2009 to record an album bereft of his trademark guitar solos and acoustic laments.
A relatively short album of 8 tracks running out at a vinyl length 40 minutes, like the album artwork which features an iceberg it's a piece of work with hidden depths. It opens with two tracks that reveal a mature rock artist - the title track and Empires End are mature pieces of AOR writing that wouldn't be out of place on a Radio 2 playlist or equally in a supporting slot to a Pink Floyd number.
All About A Woman takes that linkage even further with a dark broody rhythm that borrows heavily on Echoes / Dark Side era Floyd, with Kate O'Brian's violin taking what might otherwise be Gilmour's lines. It's a highlight of a set that then settles back into more mellow and reflective groove.
Recorded on the Wirral with producer / keyboards player Ciaron Bell and the occasional support on bass, drums and backing vocals Great Things demonstrates not only what a quality writer / performer McNabb is, but also serves to demonstrate how lightweight some of the current crop of singer songwriters are.
***
Review by Pete Whalley
---
| | |
| --- | --- |
| | Print this page in printer-friendly format |
| | Tell a friend about this page |