JIMI HENDRIX West Coast Seattle Boy (CD/DVD) Sony/Experience Hendrix (2010)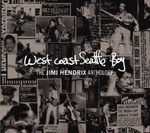 In a year that saw the 40th birthday of Hendrix's death, the Hendrix Estate/Sony ensured that we got topped up with further morsels from the studio table of this stellar musician. Starting with the 'Valleys of Neptune' set, we also had an excellent documentary 'Voodoo Child', a predictable overview 'Fire', the reissue of the original studio albums with DVD, and most recently a 4-CD/DVD box set.
Where this collection differs from previous releases, there is a focus on Hendrix's early years when playing on the chitlin' circuit with the likes of Little Richard and the Isley Brothers.
We only had the cut-down single CD/DVD package for review, and although this is a good enough summary of the more extensive release that's available it does omit that early session work.
It is likely, too, that this release in any format will only really appeal to collectors as although there is a lot of previously unreleased material, they are mostly alternate takes or mixes of already familiar songs.
John McDermott's excellent liner notes help illuminate each track, detailing - for example - the alternate version of 'Fire' and the mixing and matching that went on to distil two Hendrix lead tracks with rhythm and vocals. He also emphasises that Chas Chandler instilled a strict discipline on his prodigy.
Other examples show work in progress, for example the early try-out of 'Room Full of Mirrors' combined with 'Shame, Shame, Shame', recorded in February 1969.
From the Are You Experienced sessions comes an early instrumental take of the title track and 'May This Be Love' but even trainspotters may be hard pressed to notice the difference between the 'Mr Bad Luck' here and the one included on Valleys of Neptune.
Fans will be pleased, though, to hear a cleaned up version of Dylan's 'Tears Of Rage', played by Hendrix in his New York apartment in 1968 after he'd been sent unreleased tapes of Dylan material. (These recordings will be well-known to collectors via bootlegs).
On the 4-CD version of this release another spartan acoustic track appears - 'Suddenly November Morning' - which comes from the legendary 'Black Gold' suite, the holy grail for collectors which presumably will get a more substantial release in the future.
From the later period, and after the implosion of the Experience, we get 'Lonely Avenue' (with Buddy Miles on drums), 'Burning Desire', and a near-final mix of 'In From the Storm' which Hendrix effected just short of a month before his untimely death. Finally, there is a restored version of (Hey Baby) New Rising Sun - now sequenced with 'Bolero' which was apparently the original intention.
The question remains: is it all any good? For collectors, and perhaps the curious, it provides further insight to the creative process but there are no genuinely 'new' songs, mostly studio jams.
This sort of release will always split the fans and some may feel that there is some barrel-scraping going on. My guess is that there is still some exciting stuff to come that has previously only been available on bootlegs but, in truth, that material is not here.
The inclusion of the film documentary 'Voodoo Child' may sway the casual punter. It is put together like a family album, with Bootsy Collins supplying the commentary in Hendrix's own words. Combined with original live footage it is an evocative and fascinating document of an all-too short rock life.
If you must (and can do without the pre-Chandler stuff) - the purple-covered box set released in 2000 is still the way to go for an almost definitive overview of unreleased Hendrix. It also includes (albeit different mixes) some of the songs featured here.
****
Review by David Randall
Related>>Album review (Valleys of Neptune)
---
| | |
| --- | --- |
| | Print this page in printer-friendly format |
| | Tell a friend about this page |