JIMI HENDRIX Fire: The Jimi Hendrix Collection Sony/Experience Hendrix (2010)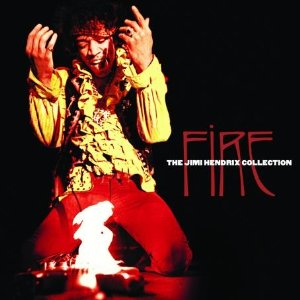 I can't quite fathom out whether the incentive for another Hendrix compilation is the ITV use of the track 'Fire' in its World Cup promotion or it just happens to suit the new custodians of the Hendrix flame - Sony and the Hendrix Estate.
There is really no other explanation, and the only other excuse is to keep the flame burning for a new generation who should, in any event, be able to raid their Dad's bitterly upgraded vinyl collection.
Of course, a Hendrix greatest hits package is to a large extent subjective. The old chestnuts such as 'Foxy Lady' and 'Voodoo Child' merit inclusion of course (although there is no 'Stone Free'). Rather bravely, the compiler here has chosen to include four (out of 20) tracks off the Valleys of Neptune release which started this new reissue project in March 2010.
The problem is that none of the Neptune album is worthy of a greatest hits collection and the songs were hardly definitive versions anyway. This is not to denigrate these tracks but as an example 'Bleeding Heart' - so brilliantly exploited in a promo video at the start of the 'campaign' - is not really disciplined enough to merit such inclusion.
Maybe the Hendrix Estate should have invited punters to vote for the 20-odd tracks to make up this latest compilation, at least then it would have provided a differentiator: Hendrix selected by the people rather than the museum curator, and it may have thrown up some surprises and maybe even a few curveballs.
A better proposition too, is the still available 'Experience Hendrix' released by the Hendrix Estate in 1998 or even the later 2-CD 'Voodoo Child' released in 2001 featuring studio and live selections. (The latter was released to coincide with an Audi TV commercial, so there is probably something in the World Cup TV exposure after all).
As it is, you get a fairly safe reiteration although - as you might expect - this collection is well annotated with proper recording and personnel information for each track which will reveal to the uninitiated that the version of 'Red House' only appeared on the US version of 'Are You Experienced.'
We have to be thankful to the compilers that they haven't chosen to include an otherwise unobtainable track. Otherwise, this release only really punctuates the Hendrix experience for those who still buy their CDs in supermarkets and motorway service areas.
***
Review by David Randall
Related>>Album review
---
| | |
| --- | --- |
| | Print this page in printer-friendly format |
| | Tell a friend about this page |