HELLOWEEN Keeper Of The Seven Keys Pt 1 & 2 (2CD) Universal (2010)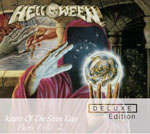 If you could pinpoint when the template was set for the European power metal scene, it would probably be these two seminal albums, originally released in 1987 and 1988 respectively. The band's second and third albums featured young vocalist Michael Kiske.
Disc one opens with the grandiose intro of 'Invitation' that builds into 'I'm Alive'. The powerful vocals are clean, the is lots of high speed guitar interplay, widdly solos, fast pounding rhythms.
Grandiose arrangements, vocal and guitar harmonies, it's all here, and some decent tunes too.
Loud, fast and blistering, and lots of NWoBHM influences (especially Iron Maiden).
Disc two similarly has a grandiose intro, a bird call, marching drums, solid guitar chords, strings, it's perfectly over the top.
The music keeps the concept going well, it is a seamless follow up. Furious drums, soaring vocals, dual guitar harmonies, it's easy to see why these two albums both became so revered.
This album features the classic single 'Dr Stein' too.
And guitarists can amaze over the fast picking on 'Eagle Fly Free'.
It's not the first time these two albums have been paired, but given the current success of the scene, to have them together in a superb digipak with bonus tracks and decent annotation, it serves as a timely reminder. Compared to Rhapsody or Freedom Call (both must have Helloween as a major influence), they're a little rough'n'ready, but they set the template.
If you are a power metal fan, these albums are pretty essential.
****½
Review by Joe Geesin
---
| | |
| --- | --- |
| | Print this page in printer-friendly format |
| | Tell a friend about this page |