HAYSEED DIXIE Killer Grass Cooking Vinyl COOKCD515 (2010)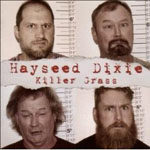 10 years on from emerging from the Deep South with hillbilly-bluegrass renditions of rock classics, Hayseed Dixie still have plenty of petrol in their tank. From applying their own Hillbilly takes on AC /DC to repeating old ground on covers by Black Sabbath and Queen, the thing that keeps the band one step ahead of a one dimensional joke is the quality of the music. No surprise then to find Cooking Vinyl as the label for this CD/DVD double pack, as the esteemed roots label is barely wrong when it comes to ground breaking signings, even if Hayseed Dixie are musically pushing the conceptual envelope.
Hayseed Dixie think nothing of steering irreverently through Rock and occasionally Classical music's back pages, but they do it so well everyone comes out the other side with a broad smile on their face.. They have after all somehow made it from the biker beer tents to both Glastonbury and the BBC via the occasional broad sheet interview. And listening to 'Killer Grass' you can see how they've cleverly struck a balance between humorous rib tickling parody and some cracking music.
Thus while Classical music fans might be every bit as outraged at finding 'Eine Kleine Nachtmusik', speeded up and acoustically countrified before being retitled 'Eine Kleine Trinkmusic' - 'Mozart's been dead for a very long time, so this arrangement is by John Wheeler' (aka Barley Scotch) - as Who fans finding 'Won't Get Fooled Again' on the Dixie musical menu. This is a band that clearly doesn't worry about its critics. Quite simply Dixie are a great band whether in original or parody mode.
To make a connection between Back Sabbath and Hank Williams via Mozart on the same album is some achievement. At best the Dixie bring a whole new dimension to songs such as The Prodigy's 'Omen' while at worst their own stuff such as 'Alien Abduction Probe' sounds like past sell by date Dr. Hook. But banjo man Reverend Don Wayne Reno is superb throughout, and the harmonies are everything that any self respecting band from Nashville could ever wish for.
You somehow suspect that despite being known for covers the band will ultimately work their way toward their own material. And in that respect they just about come out on top with the folksy free down load 'Norfolk Girl', the gun toting narrative of 'In The Backyard' and the Costello sounding 'She's Just My Type' which all suggest a post parody career. It doesn't all work as 'Underneath My Bed' is a shade too ponderous, but then Country fans might not think so and in time it will probably be the country market rather than the parody metal market that might just sustain a band as musically proficient as this.
The DVD shows Dixie to be as politically aware as they are masters of satire, as they throw in a mix of live footage, prepared video, dark humour and some off the wall but clever tutorials. For Dixie's musical appreciation of their musical heritage and contemporary times goes far deeper than mere countrified metal.
*****
Review by Pete Feenstra
---
| | |
| --- | --- |
| | Print this page in printer-friendly format |
| | Tell a friend about this page |