HARD Time Is Waiting For No One Escape Music (2010)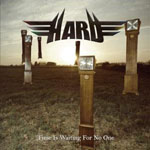 Music may be the universal language, but there are many nations who, for reasons of language or otherwise, are yet to produce a band to break through internationally. Hungary is one such, which is why HARD's performance was such a pleasant surprise at last year's Z Rock festival.
Now signed to the respected Escape Music, their new album features a new singer in Swede Bjorn Lodin (ex Baltimore). Unfortunately for me this is a step backwards: instead of the bluesy, Coverdale-esque tones of the singer I saw last year, he has a husky rasp pitched somewhere between Roger Taylor and Accept's Udo Dirkschneider. Put this way, it is a taste I have yet to acquire.
The music remains classic hard rock, particularly influenced by British bands like Deep Purple and Uriah Heep (partly due to the guest Hammond contributions from Orjan (sic) Fernquist, and openers Time is Waiting for No One and Black Clouds rattle along at a fair pace. Into the Fire, and My Kind of Woman, with a slight Bon Scott-era AC/DC feel are the other stand out rocking tracks. In contrast, Mona and Four Leaf Clover (ignore the embarrassing lyrics that rhyme puddle and cuddle) have the more mellow and slightly folky feel of Rod Stewart's great early seventies works.
The other reason to curse Lodin is his production which pushes his voice to the fore and instruments, particularly the rhythm section, firmly to the back. This was particularly grating on the ballad Love Goes with Anything, which otherwise was a good song. The guitar solos from the two Zsolts, Csilik and Vamos, are impressive but not enough in your face.
After a couple of listens and coming to terms with Lodin's voice, the album is growing on me, but for the moment file under disappointment.
***
Review by Andy Nathan
---
| | |
| --- | --- |
| | Print this page in printer-friendly format |
| | Tell a friend about this page |