HANSEL Never Say Die Pussycat Records (2010)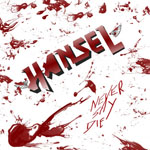 Hair metal, glam, sleaze- call it whatever you want, you wouldn't expect a band in that genre to hail from Australia - but that is exactly what you get with Hansel, and very good they are too. New album 'Never Say Die' would have no doubt sold in large amounts had it been released back in the late '80's, however, there is still a market for bands like Hansel and the songs are well written and superbly played.
Hansel's influences are clear to see- Motley Crue, Poison, Guns N Roses and Van Halen, amongst others - and their style of playing recreates the whole Sunset Strip vibe. Jett Jones vocals are bang on when it comes to this style of music, and the guitars of Busta Lacey and Grind could easily have been those of any number of big name guitarists from that era.
The band's image fits right in with their sound but not in the comedy way that is portrayed by the likes of Steel Panther, Hansel are almost paying homage to their musical heroes.
The album opens with 'I Don't Need Saving (All I Need Is Rock N Roll)', which nicely sets the tone for the rest of the album. We also have a Poison style ballad in 'Between A Rock and a Hard Place', 'Vampire'- a song that wouldn't have been out of place on Gn'Rs 'Appetite For Destruction', and 'The Whole Nine Yards' (a nod to another Gn'R album- 'Lies'). Other tracks you need to check out include 'Eruption', 'Rocketship of Love', 'Rock City' and '1-800-Pleasuretown'.
Fans of '80's rock will enjoy 'Never Say Die' and hopefully we will hear plenty more from Hansel.
*****
Review by Nikk Gunns
---
| | |
| --- | --- |
| | Print this page in printer-friendly format |
| | Tell a friend about this page |