HANA PESTLE This Way (2010)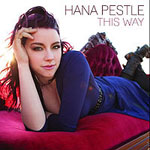 My first reaction on hearing Never Learned To Lie - the opening track on this debut album from the young American singer songwriter was ... American Idol. I don't mean that in any unkind sense, but it's the sort of big production adult orientated pop/rock song lavished with plenty of string arrangements that you'd typically find on the US prime time show.
Dig a little deeper, and you'll find that although the 20 year old Hana plays guitar and piano, the 'team' behind her includes Ben Moody (ex Evanescence songwriter/guitarist) and Michael 'Fish' Herring. The pair not only share production duties, but get stuck in on song writing, guitars and piano. And with CV's between them including Christina Aguilera, Avril Lavigne, and Kelly Clarkson, it's no surprise that Pestle's sound is remarkably close to that of some of her contemporaries.
In fact, the furthest she moves from the mainstream is the rather excellent quirky piano ballad Need, which brings Tori Amos to mind. A song that on the back of an internet campaign to get it onto the Twilight, New Moon movie soundtrack saw it notch up over a million plays in a few short months.
So what you get is note perfect singing, song writing by numbers, lush string arrangements and an incredibly radio friendly production. And no question, the girl's a huge talent with a big future ahead of her.
But for an artist who often takes to the stage with just a microphone and an acoustic guitar you can't help but feel it would be nice to remove several layers of the polish that have been applied to this debut and to hear a little bit more of the raw artist underneath. For me, This Way is just too clean cut and deliberately crafted for the late teen market.
***
Review by Pete Whalley
---
| | |
| --- | --- |
| | Print this page in printer-friendly format |
| | Tell a friend about this page |