VARIOUS Les Paul Dedication Guitar Masters Vol.3&4
BHP Music (2010)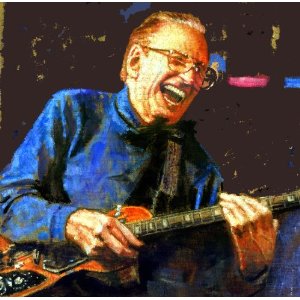 Brian Tarquin is a respected sessionist, producer, writer and compiler and the latest in his 'Guitar Masters' series is a tribute to the great guitar innovator Les Paul.
Apart from the inclusion of a classic Les Paul track ('Why Do I Love You') you shouldn't consider this to be anything other than a well-compiled guitar album, for example it is not as if Tarquin insisted that all his guests must be Les Paul users. The inclusion of 'Strat Struttin'' featuring Sammy De Morton may still seem somewhat bizarre, though. It's also the least appealing track on the album.
The album continues the trend for including some older tracks mixed in with the new. Whether this is by way of historiography is not too clear, but perhaps more simplistically Tarquin couldn't get Jeff Beck to donate a new piece. This would be a shame as Tarquin is obviously a very deferential guitar nut, a Beckoholic, and a guy who deserves his head of steam in what is one of the best projects of its kind. It's like a modern day, guitar-oriented version of those great "No Speak" albums of the late 1980s.
As a taster of the current state of rock/jazz/fusion guitar - and therefore a fitting tribute indeed to Les Paul - this compilation takes some beating.
It has to be said, though, that some of the tracks can veer into muzak territory (notably Chuck Loeb on 'Peg' and 'Swift Kick'). Nor are there any obvious young guitar stars of the future with their own distinctive voice. Too many times we are hearing the safe and predictable, and licks trailblazed thirty years ago not least by Steve Vai who is represented in person by 'Funk Me Tender', a lesser-known 1986 collaboration with bassist Randy Coven.
Tarquin seems to have his coterie of tried and tested players and may have done a better service to the genre by being more adventurous with his choice of artists rather than - as with Hal Lindes and Loeb - using more than one track by each. Also, buyer beware, many tracks appear on Tarquin's earlier collection 'Fretworx', released in 2008.
It is, though, a great opportunity to savour some established players in a new context. There are really excellent contributions from former Dire Straits guitarist Lindes who thankfully came out of Mark Knopfler's shadow in 1985.
We also have a new recording from the sometimes overlooked Gary Hoey, Chris Poland (from Megadeth) and the less well-known Howard Hart (the excellent 'Hell Kat'). And there's still room for old-stagers Leslie West and Allan Holdsworth.
Tarquin himself is a generous collaborator and plays on many tracks either in a supporting or more dominant role. He is a talented guitarist and writer, not least on 'Constantinople' which features Will Ray and the sublime 'Solidarity' with Max Middleton. If Tarquin can't get Beck he can get his one-time band-mate. Nice one, Brian.
But with a rival in Vai's own 'Favored Nations' imprint, Tarquin would do well to nurture some new and exciting young talent, especially as the early releases from Vai aren't exactly earth shattering.
****
Review by David Randall
Hear tracks from this album in our instrumental sequence (Mon-Fri, 6:00-10:00 GMT) on Get Ready to ROCK! Radio
---
| | |
| --- | --- |
| | Print this page in printer-friendly format |
| | Tell a friend about this page |