GOV'T MULE Mulennium Provogue PRD 7326 2 (2010)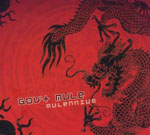 Recorded at the Roxy Atlanta, a venue played Warren Haynes back in the early 90's, this eve of the millennium (hence 'Mulennium') triple set recording is really the sister album to the previous year's 'With a Little Help From Our Friends'. And although not originally considered for release, a decade later it provides possibly the best across the board representation of the Mule's original line-up. In short if you didn't get what the Mule was about via their early studio albums, 'Mulennium' is an eloquent statement of their abilities.
Comprising Warren Haynes, Matt Abts and the late Allen Woody, the band take their time to work their way through material from the forthcoming 'Life Before Insanity' album. The ultimate power trio wend their way through muscular grooves such as 'Lay Your Burden Down', powerhouse shuffles like 'Blind Man in the Dark' and of course the title track which is rough hewn dreamy progression that in part sounds like Traffic.
There's also room for a ballad 'Towering Fool' which is well suited to Warren's croaky voice as he emotes the lyrics alongside some searing linear guitar lines. And disc one finishes with a Classic Rock triumvirate that takes in the well chosen King Crimson '21st Century Schizoid Man', The Who and Zeppelin - an inspiration they return to in the presence of an extended blues section with Little Milton.
The fact the band enthusiastically showcases Milton as one of their blues sources elevates The Mule above being just another jam band with some frenetic chops. There's a coherent histo-cultural musical thread at the heart of this triple set. Three of the tracks made it on to Little Milton's subsequent Grammy award winning 'Best Contemporary Blues Album' of 2000 and the connection between the rock/jam band scene and its blues antecedents is well made.
The ensemble is later joined by Black Crowes guitarist Audley Freed, for an unlikely cover of Alice Cooper's 'Is It My Body' - complete with a distorted vocal - and a well chosen Hendrix groove, 'Power of Soul'.
In essence, disc three provides the pay off for die-hard Mule fanatics as the band extend their chops and work their magic round Lennon & McCartney's 'Helter Skelter' the Humble Pie stage favourite '30 Days in A Hole', the slide led 'End of the Line' and the anthemic 'Simple Man' by Skynyrd, with an Hawaiian sounding guitar in glorious echo reverb. And by the time of the final goodbye - 'Happy New Year we appreciate you very much' - you do feel like you've been right there with them seeing in a rocking new 'Mulennium'.
Well worth purchasing for new and old fans alike.
*****
Review by Pete Feenstra
---
| | |
| --- | --- |
| | Print this page in printer-friendly format |
| | Tell a friend about this page |