GOV'T MULE Reissues Retroworld FLOATM6058/59 (2010)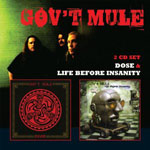 Gov't Mule reissues are always worth checking out. And stepping outside of the chronology of their original release the two studio albums 'Dose'/ 'Life Before Insanity' demonstrate a band still discovering its style while the double live set
'With A Little Help From Our Friends' is a celebration of all that is good about The Mule. It's already 15 years since Gov't Mule first crash landed on the jam scene as an adjunct to Warren Haynes's work with The Allman Brothers. He started Gov't Mule partly because of the Allman's paucity of new material at the time. And its ironic that while these three albums demonstrate the band have the requisite chops and Warren has all the essential ingredients of a good southern rocker - an inventive guitar style and de rigueur whisky soaked croaky vocals - for all their collective virtuosity there's a dearth of strong material.
Even the best song, the very soulful 'Soulshine' sounds very close to Joe South's 'Games People Play'. Indeed it could be argued the band's best moments come on the well chosen covers on the double live set to match the blunder bus version of Lennon & McCartney's 'She Said, She said' on 'Dose'. But to enter the world of Gov't Mule is to pass through a landscape of restless exploration on a journey punctuated by angular riffs, obdurate time signatures, stop-start rhythms, muscular grooves, and a bewildering array of tonal colours.
And having left behind the smooth twin-guitar melodic Southern rock of The Allman Brothers, Warren Hayes leaves no stone unturned in digging up some of the most intense, jagged rock-blues this side of the late, great Free. Both Paul Rodgers and the late James Dewar (Robin Trower) are significant influences but Hayes is not given to cliché. For while Gov't Mule might have been in the vanguard of the mid 90's jam band tradition, they are an outfit that always take the long way home to potentially fulfil ever musical possibility rather than jamming for the sake of it.
Each melodic nuance, each accented riff, each little tension and its subsequent resolution and each Ginger Baker style excursion over the kit by Matt Abts pushes a theme or idea to breaking point, through a series of musical push and pulls.
Sometimes as on Dose and 'Thorazine Shuffle' there's a lumbering progression not far removed from Robin Trower, while on the aptly titled 'Birth of The Mule' the band come close to nailing down their creative style on a bristling six and a half minute instrumental.
While the whole of the 'Dose' album (Retroworld FLOAT6058) is akin to musical pieces of a jigsaw that reveal themselves only as part of a bigger picture, 'Birth of The Mule' is possibly the most coherent glimpse of their oeuvre with Warren's luscious notes leading the band into a jazzy tinged, spacey edged workout that could only be The Mule. All that is missing is Warren's gruff vocal and he duly obliges on the traditional gospel/blues of 'John The Revelator' before 'Larger Than Life' reprises the Free influence. ***
2000's Life Before Insanity (Retroworld FLOAT6058) was a well received album and you can see why. The arrangements are tighter and the playing a tad more fluent, be it on the wrapped up tight slide and funk of 'Bad Little Doggie' or the gospel tinged, hard riffed, 'Lay Your Burden Down'.
The band even cut loose and rock out on 'World Gone Wild' reflecting their sharper focus. It's a welcome shift from their previous tendency to extemporise at the expense of feel and structure. 'Far Away' brings some rare cool to the proceedings with a deft blend of vibes, slide and repeated notes while the extended 'No Need To Suffer' is a slow burner that evolves into trademark Hayes guitar end piece. ****
Live - With A Little Help From Our Friends (Retroworld FLOAT6059) somehow manages to cram over 140 minutes into to 2 CD's (the whole show) and is notable for Mule's ability to pursue different musical directions with an array of guests from various Allman Brothers to Black Crowes personnel .
Too often an all star jam such as this collapses under the combined weight of expectation but this Atlanta show derives its equilibrium from a well chosen set in which the originals such the melodic 'Soulshine' and the 'Devil Likes it Slow' (with Bernie Worrell on keys and Jimmy Herring on guitar) explore some memorably jazzy tinged improv alongside well chosen covers.
And while the heavy riffed 'War Pigs' by Sabbath reaches into the darkest parts of the band's musical psyche, they rediscover their muscular riff driven style on 'Humble Pie's '30 Days in A Hole'. Guest pianist Chuck Leavell weaves his magical piano lines over the slide led blues standard 'Look On Yonders Wall', but the biggest surprise comes with Randall Bramlett's sonorous soprano sax on Dave Mason's 'Sad & Deep As You'. The band and guests beautifully reshape a short meditative love song into an inspired work out.
And while Warren's croaky vocals just about tackle Neil Young's 'Cortez the Killer' it is with the closing 30 minute 'Afro Blue' opus - complete with the Hayes, Herring and Derek Trucks guitar triumvirate plus Bernie Worrell on keys that everything brilliantly gels together. You suspect that the resulting mesmerising cornucopia of The Allman Brothers meeting The Grateful Dead was the moment Mule fans had waited patiently for and will lead potential buyers to purchasing the album. ****
Review by Pete Feenstra
---
| | |
| --- | --- |
| | Print this page in printer-friendly format |
| | Tell a friend about this page |