THE GLITTERATI Are You One Of Us? DR2 (2010)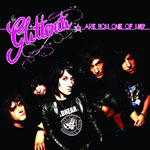 Back in 2005 The Glitterati released their self-titled debut album to critical acclaim. The band played at several festivals, entered the UK Top 40 and built up an impressive fan base whilst supporting the likes of Kings of Leon, The Killers and David Lee Roth. Then it all went quiet.....
Fast forward to 2009 and the band regrouped to record new, and long awaited, album 'Are You One Of Us?' with producer Matt Hyde (Trivium, Slipknot, The Gallows). The first single 'Fight, Fight, Fight' was given away as a download late last year and heralded a new start for the band- with a new harder, more aggressive sound, but with the old swagger still intact (just have a listen to track 'Too Many Girls').
'Are You One Of Us?' may find the band with a harder edge, but they have lost none of the hooks, riffs and melodies that appealed to fans in the past. The band is likely to pick up a whole heap of new fans this time around too as the album has touches of both The Wildhearts and Velvet Revolver (vocalist Paul Gautrey puts in a decent Scott Weiland style effort on 'Your Idea'). There are also a couple of tracks that make you realise what The Stereophonics would sound like on steroids ('Canít Say No' and 'Lola Itís Over') and this highlights just how good the bands song writing is, this is evident throughout the album as there is not a weak track on here.
Other highlights include the next single 'Overnight Superstar', 'Right From The Start' and 'Keeping Me Down'. 'Are You One Of Us?' is a great album and one that should do well for the band.
Welcome back - donít leave it so long next time.
*****
Review by Nikk Gunns
---
| | |
| --- | --- |
| | Print this page in printer-friendly format |
| | Tell a friend about this page |