GLEN MATLOCK & THE PHILISTINES Born Running Peppermint FREEM5024 (2010)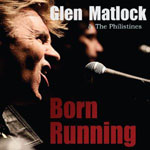 Glen Matlock's 'Born Running' is a surprisingly good album with a dozen hard driven, high octane, power pop songs that burst with enough rock & roll bluster and catchy hooks to avoid being swamped by Stereophonic producer Jim Lowe's imposing wall of sound.
'Born Running' is full of short, sharp songs, steely licks, sing-along hooks and for the most part snappy arrangements. The wall of sound production works on two levels, borrowing its grandeur from Phil Spector and more recently Steve Lillywhite to bolster the arrangements and also to bring some light and shade to Matlock's inoffensive vocal style.
Such is the power of the imposing production style that from the opening crashing chords of title track and single 'Born Running', you almost need to take a repeat look at the sleeve just to check you haven't misread 'Born Running' for Springsteen's Born to Run'.
But Glen is more of a 'foot to the floor' pop rocker, a trait never lost since his days with The Rich Kids. And there's a touching posthumous appearance by Rich Kids guitarist Steve New on 3 tracks of which 'Nowheresville' is a kind of song Graham Parker might have written before an ensuing argument with the producer, while the impressive sing-along rocker 'Way To Go' nuances the good time feel of Blur.
There's not a lot of light and shade on this album, but the rip roaring approach and a handful of catchy songs are enough to make their mark. Only the impressive 'TROUBLE' sounds a little dated because of its cheesy sounding New Wave style keyboard line, but overall the songs are potent enough to carry the album to a strong finish.
The chant along chorus of 'Rock Chick' calls upon the bv's of Maggie Ronson and Tracy Hunter while the, ahem, explosive 'Time Bomb' is an exercise in the art of song writing simplicity; What makes you tick? What makes you go around? I don't get no kick ...watching your fuse burn down etc. The fluid chord changes and 80's style chanted hook is reminiscent of Joan Jett or even Eddie & The Hot Rods.
'Hard Work' isn't so much a reference to the problem of finding more songs to fill the album as probably a comment on Glen's own driven psyche. He is after all the only Sex Pistols member still making music and has produced his best album in living memory.
He ropes in John Tiven for a coruscating short in and out solo full of bluster and good taste and the call and response vocals on the outro gives the song its insistent feel.
Only the MOR plod of 'Something Tells Me' really misses the mark but Glen is quickly back on track and goes again on the hard driving chant along chorus of 'Electricity', while the good time sing-along intro of 'Way to Go' has a Blur feel to it.
It's hard to believe that Glen Matlock was replaced by Sid Vicious in the Sex Pistols. But if nothing else this album tells us a lot of about his enduring pop-rock song writing qualities. 'Born Running' pulls no punches, it's a smoking gun of an album and it's the kind of CD that any time you want a 'straight the vein' shot of rock & roll, you merely have to press the repeat button.
****
Review by Pete Feenstra
---
| | |
| --- | --- |
| | Print this page in printer-friendly format |
| | Tell a friend about this page |