GILLAN Triple Trouble Live (3CD) Edsel (2010)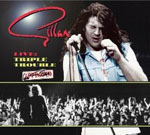 In the late 70s and early 80s, British hard rock was bolstered by a thee prong attack of Deep Purple offshoots; the more glamorous two, Whitesnake and Rainbow, and then the more low key but equally successful Gillan, led by vocalist Ian Gillan. And here he had one hell of a band, a kick up the backside, and although there was the occasional change of personnel, it wasn't quite the revolving door situation of the other two bands.
A good deal of this material is previously unreleased, and all of it makes essential listening. On record, Gillan were a damn fine, hard rocking, catchy, headbanging set with excellent original songs, great production and a jolly good stab at a cover or two too. On Top Of The Pops, they were just as much fun. But live? All that and more, fireworks, the lot.
Disc one is was recorded at the Roundhouse, March 1981, around the time of the release of the Future Shock LP. The set opens with "Second Sight" and there's the odd track from Future Shock too, with the title track going down well. "Vengeance" (from Mr Universe) is a classic too, but the set is largely filled with tracks from 1980's Glory Road, including "Sleeping On The Job", "On The Rocks", "No Easy Way" and "Are You Sure". Gillan's voice, screams power and all were at a peek, Bernie Torme's guitar was on fire too. No rhythm section pounded as solidly as drummer Mick Underwood and bassist John McCoy, and Colin Towns a great and underrated pianist. With "Smoke On The Water" and the most blistering version of "Lucille" you'll ever hear closing the set, a superb set. Really.
This was, as Gillan says during the set, planned to be a live album but never appeared, probably due to Torme's departure during the tour.
So the live album you did get back in 1981 was a very edited version of August's Reading headline, as part of the Double Trouble LP and a couple of single b-sides. This, with new guitarist Janick Gers (ex White Spirit), is here in full, complete. Not only all the tracks, in original running order, but the tracks are full, showing that previously some had been edited. The track running is not too different to before, but with a couple of new tracks. Another Essential set.
The 3rd disc features a similar period BBC 1 Friday Rock Show session, and live tracks recorded in Nottingham. 10 tracks in all, and again stunning in performance and quality.
This set shows two versions of Gillan, the band at their peak in terms of musical output and live performance. As electric as eclectic, and I really do mean essential listening. Nice pictures in the booklet, but the lack of annotation the only let down in the whole thing.
*****
Review by Joe Geesin
www.joegeesin.com
---
| | |
| --- | --- |
| | Print this page in printer-friendly format |
| | Tell a friend about this page |