GHz Morbid Curiosity NDP Productions (2010)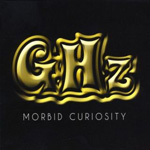 Washington DC's GHz wear their retro influences on their sleeve and although working in a trio format there's more to their music than mere power riffery. The band dig deep for some sumptuous sounds in a cool unhurried manner, working up some rich grooves and sinuous solos over 10 well worked songs. Indeed on the evidence of the opening track '21st Century Highway Man', guitarist Dan Hovey's fluid playing is as close to the Allman Brothers as it is to British Rock Blues.
GHz are the kind of band who seek to extemporize on the back of some free flowing melodies and well crafted songs rather than jamming for the sake of it. There's a nice blend of 60's pop rock with a hint of psychedelia and an ever presence feel for the melodic as evidenced by Hovey's Jerry Garcia style lead runs on 'Fiffle De Dee'.
On 'Snakes & Squirrels the band open with a Yardbirds 'Train Kept a Rollin' riff but quickly settle for a more laid back verse with some Wishbone Ash style harmonies over Scott Giambusso's insistent bass lines. Dan adds some tasty flighty guitar that embellishes rather than dominates the song. And it is this intuitive approach that lies at the core of this band. The title track is a nod in the direction of 70's Southern Rock before Hovey delves into some cool tone explorations on what sounds like a lap-steel on the instrumental 'Mary Shelley's Troubled Sleep'
GHz mine the past to explore what is possible in the future. And to that end it takes a batch of confident material to draw on the Classic Rock template and come up with something that is uniquely your own. And they just about pull it off, especially so on the mantra like chant of 'OMG'. With its dreamy meandering guitar lines, crisp drum track and post Iron Butterfly style vocals they come up with something of real substance and a portentous presence that even manages to sucker you into the drum solo without losing your interest. Dan Hovey nicely rounds things off by evoking John McLaughlin on some intricate lines.
The fact that GHz are no spring chickens probably explains their sense of musical history. The band rock out nicely on 'Life On The Food Chain', before slipping into a Floydian stoner style 'In My Dreams', comprising beautiful slide and a full range of tone colours.
The closing guitar led 'Turn That Damn Thing Off' returns to the Southern Rock sound of the title track. There may be echoes of The Outlaws and inevitably Lynyrd Skynyrd, but as with much of this album the influences are contributory colours to a richer musical palette all of their own.
****
Review by Pete Feenstra
---