FRANCIS ROSSI One Step At A Time earMusic (2010)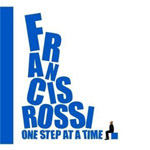 For some reason this album keeps reminding me of Ringo Starr's post Beatles solo career. Perhaps it's the strong sense of melody, the clever use of a limited vocal range and the sporadic solos that all too rarely diverts the emphasis from the core song. And yet if it is songs and melodies outside of the Quo blueprint that Francis Rossi wishes to pursue, he's not taking too many chances as he rekindles his long time relationship with co-song writer (and 5th Quo member) Bob Young.
On top of that he even rehashes the duo's 1973 Quo smash 'Caroline', so in sum there's little sense of rupture.
It begs the question, surely if he's stockpiled some songs that were different from Quo, why not unveil them now. In effect, 'One Step At A Time' turns out to be a musical half-way house.
The opening three tracks sounds like the mothership before a brace of Rossi/Guy Johnson songs suggest a slightly different approach. But to begin at the beginning. Francis Rossi has always been a pop rocker at heart and although the opening 'Sleeping On The Job' still does have one foot in the Quo camp it is also heavily reminiscent of Dave Edmunds Rockpile. The well crafted harmonies, snappy rhythms and infectious hook were the latter's stock in trade.
Similarly 'Tallulah's Waiting' is very catchy and offers some potential radio play, except it sounds like Quo without the rock edge but with ELO harmonies. Slap this track on anyone's stereo and they'd still tell you it was Quo!
But it is on the title track that there is a change. The close knit harmonies and synth/string arrangement of 'One Step', with its stripped down voice and piano intro is an album highlight. Francis's delicate vocal line is coloured by some wonderful three-part harmonious and bv's from Amy Smith, Una Connor and Amber du Platel, sung over a military drum beat. There's a sense of grandeur and a big harmonic sweep not unlike the Beatles. The accompanying singers powerfully nuance the melody line and the overall arrangement is so good that even though you can't quite catch the words to the hook, you sing along with them. This is an album highlight and an obvious lead single and probably the reason it's the title track.
The Rossi/Johnson combination also contributes the uptempo, stop time 'Here I Go' which is another catchy sing-along rocker. There's a hint of Jeff Lynne in the production work with keyboard embellishments, a rich toned guitar break and glistening harmonies. This is Francis Rossi at his best exploring his pop sensibilities on a track that works superbly well.
The following 'Faded Memory' recovers from a sluggish intro and a sudden tempo change to finds its equilibrium via a strong chorus full of yet more great harmony vocals, a full string section and a 60's sounding harpsichord.
For the rest, the inconsequential tempo and lightweight vocals of 'Strike Like Lightning' grate a little, while the perfunctory ending makes it sound a like an unfinished demo.
Then there's the aforementioned, piano inflected version of 'Caroline' which surely only die-hard Quo fans will warm to. But given this album is a de facto Quo spin off they probably will, but it's a wasted opportunity to serve up something new.
With a handful of strong songs and plenty of refreshing harmony singing as on the closing 'If You Believe', with its weighty 'ooh's and aah's', 'One Step At A Time ' may yet become a portentous title. But only Francis can make the decision as to fully leave Quo behind when in solo mode.
****
Review by Pete Feenstra
---
| | |
| --- | --- |
| | Print this page in printer-friendly format |
| | Tell a friend about this page |