Just witnessed your best live gig?.. send us a review!
FOUR WHEEL DRIVE
100 Club, London 4 May 2010
Photos by Noel Buckley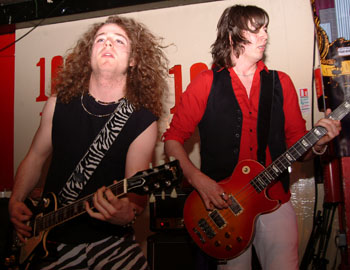 Four Wheel Drive have been driving down Rock 'N Roll Avenue for only a short while and tonight are playing their most important gig in front of invited guests from the media of rock's top magazines and radio stations here at the prestigious 100 Club in London's bustling Oxford Street on a night when Luke Skywalker might say ''May the 4th be with you.''
Normally the 100 Club plays host to jazz bands but over time the stage has graced the Rolling Stones, Sex Pistols, Chuck Berry and even a secret show from Metallica and now it is time for the Twickenham boys Four Wheel Drive to rev up some noise and follow in some great footsteps.
Tonight is a video launch for the premier showing of 'White Lines' a video recently shot in Gunnersbury, West London. As with most showcase gigs the evening starts at 6.30pm where industry bigwigs can mooch with each other and make the most of the free booze on offer. the GRTR team were there, and are we ready to rock? You bet. Are we ready to make the must of the free booze? Make that a double.
The band invited an impressive 250 fans along for the ride and the place was soon packed out. After a showing of the video which shows the band live and hot in action, it was time for some proper live action.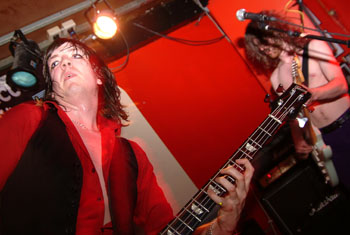 'White Lines' sent us down the right lane and there was no time to look in the rear view mirror, this was full on rock 'n roll. Singer and bassist Jamie Lailey has a rasping voice similar to Tom Keifer of Cinderella. Some great guitar work from Paddy Achtelik and Ben Austwick who take turns in the solos with Will Richards doing some serious damage to the skins.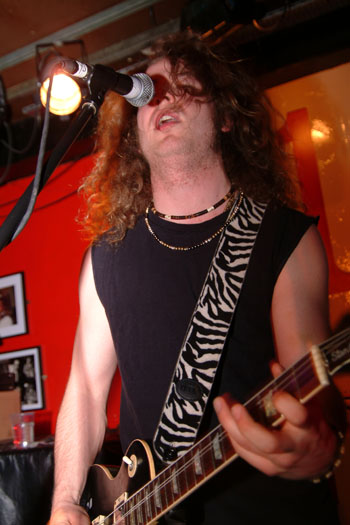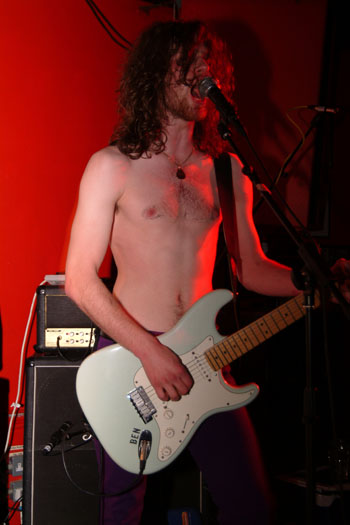 Four Wheel Drive play good time rock 'n roll with touches of AC/DC, Quo and even Bachman Turner Overdrive played at 45rpm, not 'arf mate.
Title track from their debut CD 'High Roller' breaks the speedometer. The band put 100% into their performance and I'm always ready to go for another spin with the boys each time they play.
New track 'Get A Move On' ended the night and left it's tyre tracks all over the 100 Club. Four Wheel Drive shirtless and sweaty did a lap of honour and won themselves many more friends tonight.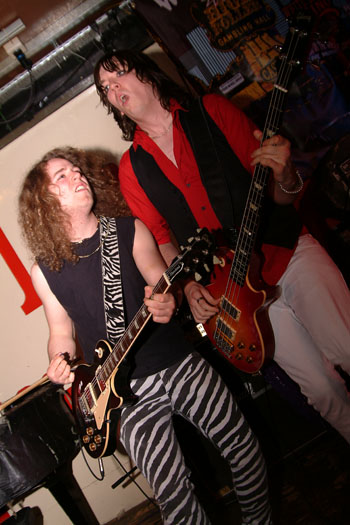 Walking out of the venue was like being on an all night bender as it was still daylight at 9pm, so with valuable drinking time still ahead, us media hacks made a hasty retreat to the Crobar soon followed by the band for a boozy Tuesday evening that went on until the early hours.
A great night and a great future ahead for the 4WD boys, but one thing I learnt the following morning is, don't drink and Four Wheel Drive.

Set list : White Lines / Blood On The Walls / Hole Of Rock 'N Roll / House Of Fire / Take A Drag / Big Fat And Ugly / Six Foot Poster / High Roller Encores ... Rough Around The Edges / Get A Move On

Review by Mark Taylor
Photos by Noel Buckley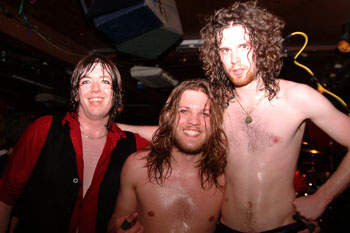 ---