Just witnessed your best live gig?.. send us a review!
FOUR WHEEL DRIVE
Coach & Horses, Isleworth, 14 February 2010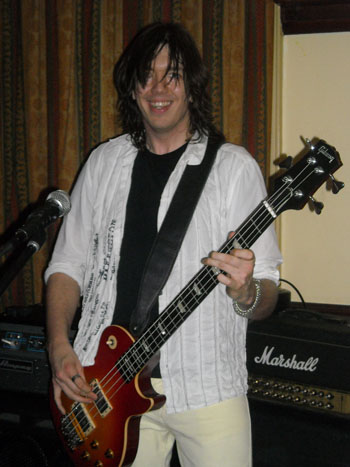 Twickenham rockers Four Wheel Drive have been causing a media scrum recently and have been getting high plaudits from respected journalists from Classic Rock and Metal Hammer magazines as well as radio station Total Rock. They have also been been getting early attention from Get Ready To ROCK!'s very own Pete Feenstra and myself who have both witnessed the greatness of this live band.
Tonight is Valentine's day and the boys are having a love-in at one of their favourite watering holes.
It was full throttle down for the first number 'White Lines' a track the band recently shot a video for which should be on your TV screens anytime soon, kicking this gig off in fine fashion.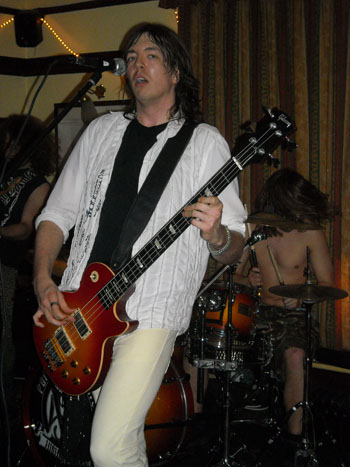 The band are firing off on all cylinders from the word go. Frontman and bassist Jamie Lailey looks like he should be fronting a Small Faces tribute band, but at soon as he screams out his larynx, you realise this man is an entirely different beast who could give Airbourne's Joel O'Keeffe a good running wild for his money.
You could say there are more Airbourne similiarities when three quarters of the band are bare chested after just the first few numbers, but when the energy is this high who can blame them, but whilst Airbourne are more of a metal act, Four Wheel Drive influences came from more of a heavy blues boogie approach.
'Take A Drag' is simply smokin' featuring the heavy boogie of early Quo and British legends made big in the US Foghat.
'High Roller' the title track of their debut CD is a screaming beer drinking anthem that makes you want to throw your fists into the air.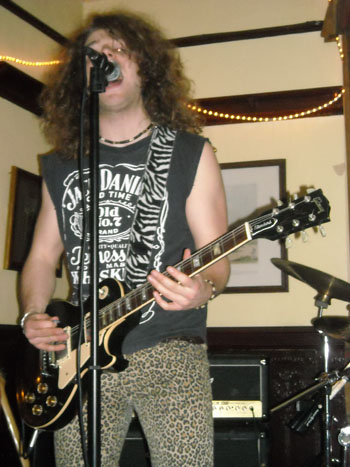 There is some great guitar interplay between Ben Austwick and Paddy Achtelik featuring some great bottleneck slide action from Achtelik, a man who has no shame. Wearing the 80's cliche t-shirt of Jack Daniels and leopard spandex trousers stolen straight out of Vera Duckworth's wardrobe.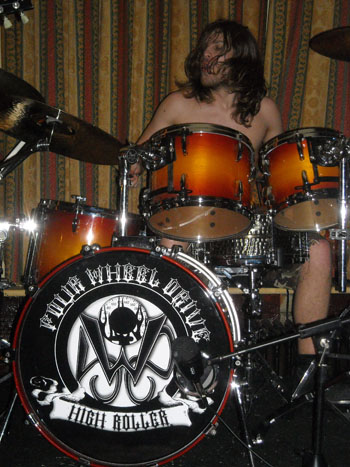 Keeping the chemistry right and making sure this engine doesn't overheat is Will Richards who batters the hell out of his drum kit.
With the main set over, encores were demanded and it was great to see a young band in their twenties paying homage to a true great rock' n roll legend, Chuck Berry. Ben Austwick took on vocal duties for 'Johnny B.Good'. It's good to know now that Chuck Berry can finally retire in the knowledge that the future of rock 'n roll is in safe hands.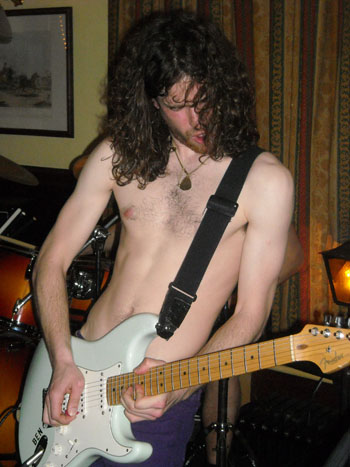 With a tribute to AC/DC at the end which had this writer doing an Angus duck walk impersonation, and on this Valentine evening there was a whole lotta roses being thrown about. We still wanted more for which the band played one of four new tracks tonight for a second helping of 'House Of Fire'.
Catch up with them whilst you can because Four Wheel Drive are the perfect musical companion to life in the fast lane.

Set list : White Lines / Blood On The Walls / Hole Of Rock 'N Roll / House Of Fire / Take A Drag / Big Fat & Ugly / Six Foot Poster / High Roller / Use Your Imagination / The Vision's Gone / Rough Around The Edges / Down Under ...encores Johnny B.Good / Whole Lotta Rosie / Highway To Hell / Shoot To Thrill / House Of Fire(Reprise)

Review and photos by Mark Taylor
---