Just witnessed your best live gig?.. send us a review!
FM Islington Academy, London 9 July 2010
Photos by Noel Buckley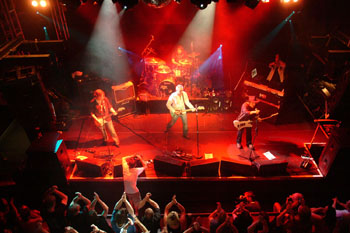 Having a drink after the show a friend and I agreed that, when FM called it a day in 1996 after over a decade of not quite making the big time, we never ever expected to see days like this again. But since reforming for Firefest in 2007, the finest melodic rock band produced on Britain's shores have come back better than ever.
To add to the revivalist atmosphere at a full Academy, excellent support came from Romeo's Daughter, who supported FM on their biggest ever tour back in 89 and reformed last year after an even longer absence. Dressed all in black, raven haired temptress Leigh Matty remains their focal point, not to mention being one of the poshest people ever to grace a stage- her spoken intros made the Queen sound like that other Mrs Windsor, Barbara.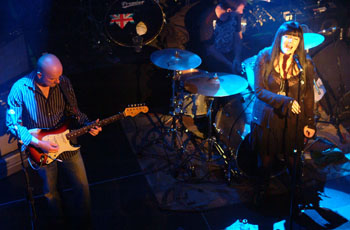 Opening with Heaven in the Backseat, complete with its Mutt Lange-isms, the set was mainly based around their 1988 debut, from slow burning pop rockers such as 'Velvet Tongue' and 'Cry Myself to Sleep at Night', with tasteful extended solos from shaven headed guitarist Craig Joiner, to heavier numbers like 'Wild Child' which was covered by Heart.
The Def Leppard-influenced 'Attracted to the Animal' was the sole pick from the second alum 'Delectable'. An all too short 40 minute set ended with 'Don't Break My Heart', vastly rockier than on record. My one reservation was an excessive reliance on programmed sounds, but on the evidence of a new and slightly more modern sounding number Bittersweet they have a bright future and are no mere nostalgia trip.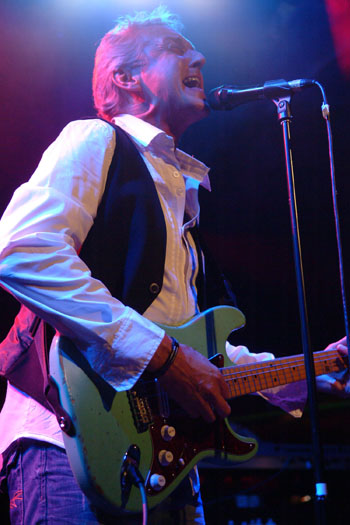 My first thought as FM opened with Wildside was how all the crowd seemed to be singing along despite it being a new song, and there was a great atmosphere throughout their set. They then took a mini tour through their career highlights - a double from 1986's 'Indiscreet' (the best British AOR album ever) in 'Face to Face', complete with twin guitar duel, and 'That Girl', 'Don't Stop', and the stirring duo of 'Only the Strong Survive', with some great slide guitar, and 'Blood and Gasoline' with Jem Davis' organ sounds giving a more soulful dimension.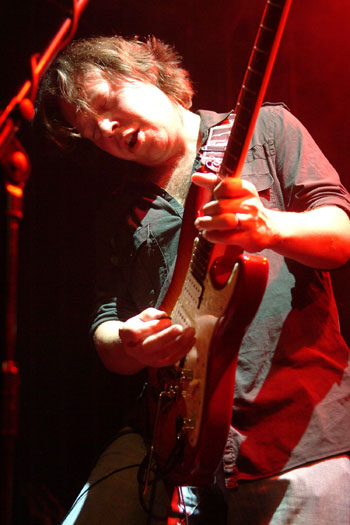 The band are a solid unit, with guitarist Jim Kirkpatrick impressing with his fluent but unflashy style and growing in confidence and stage presence, but FM's selling point has always been Steve Overland's wonderfully soulful vocals, and he can replicate them in the live environment, except for one moment when during a vocal spotlight a heckler managed to dissolve him into fits of laughter. They are refreshingly clear of rock star posturing and seemed to be genuinely humbled by their reception, although Steve's 'what a lovely audience' schtick was almost in Bruce Forsyth territory.
One criticism that could be levelled at FM first time round was that they clinically targeted their musical style to fit the times, from the 'pink and fluffy' keyboard heavy debut, to the Bon Jovi-isms of Tough It Out, to their bluesier phase riding Thunder's coat tails.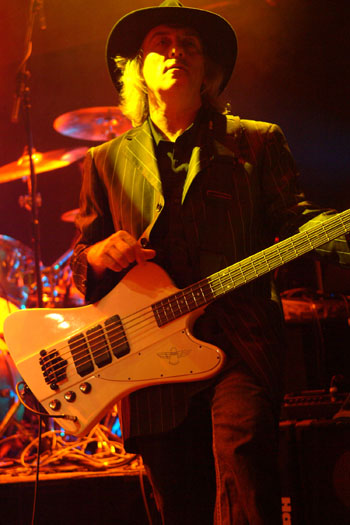 However 2010 FM sound all the better for just being themselves and a trio of new songs mid-set were among the highlights of the set. 'Hollow' had the pop rock hooks that attracted Radio 2 playlisters, 'Over You' combined a shuffling beat with the best dual guitar jam this side of a Wishbone Ash gig, and 'Flamingo Road' had a classic seventies feel to it.
Back to the oldies, the lengthy blues of 'Hard Day in Hell' featured a guest sax player, before the welcome return of 'All or Nothing' to the set. After 'Burning My Heart Down' the real treat was to follow with the unexpected return of the ridiculously catchy American Girls to the set after a 20 odd year absence, with Jem larking about front of stage with his 'keytar' in a Van Halen design.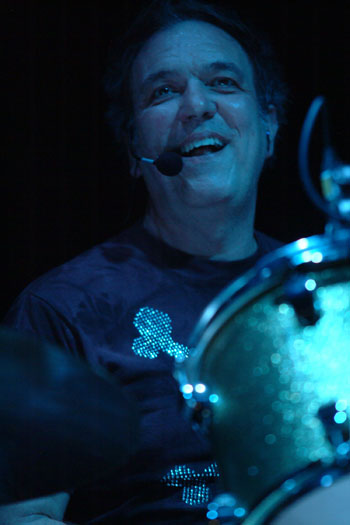 The encores were back in familiar territory and the crowd were well up for them, with ballad 'Frozen Heart' contrasting with the hooks of 'Bad Luck' and the grooves of their rocked up cover of 'Heard it Through the Grapevine'. Bizarrely, all through it bassist Merv Goldsworthy was stately in a hat and pin striped suit despite it being the hottest day of the year.
If you are looking for rough, sleazy and ragged rock n roll with a dangerous edge, then FM will never be for you, but this gig saw them at their melodic finest. This is one reunion it has been worth waiting for.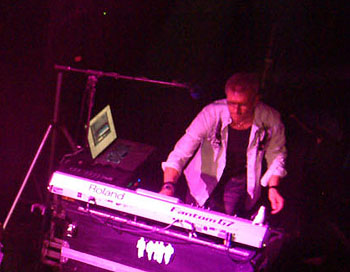 Review by Andy Nathan
Photos by Noel Buckley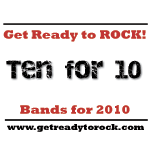 ---