FEEDING THE FIRE Disinfonation Ownlifemusic (2010)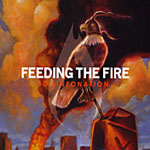 North Caroline Prog band Feeding The Fire will most probably be quietly labelled as a Prog band with socio-political messages. But you suspect that such is their fervour and lyricist Ken Cannon's burning sense of indignation with the world that they won't go quietly.
For this is a band with songs from the heart and played with all the passion you would expect as they blaze their way through ruminations of the self, the social and the political.
They open with the political and a torching of the mainstream media on 'Disinfonation' and quickly add a biting critique of the Bilderberg group power elite - think politicians, bankers, military leaders, media etc - on 'Bilderberg's Last Dance'. But while they wear their politics on their sleeve, they also fearlessly use phonetic word plays such as 'D'Nile', which others outside of street vernacular might recoil from using in embarrassment. And while the number plods a little the words do carry a ring of truth; 'To be carried through a lifetime of no conscience or free will'.
But there are plenty adventurous and progressive musical ideas here and you could argue that had Rush not crashed into our orbit back in the 70's Ken's Geddy Lee style vocal range might still cause a stir.
Prog fans will surely take to 'Fishtory' with its opening Amon Duul style riff, its mix of power chords, chiming guitar lines, a powerful drum track, and the hard hitting lyrics;
'Power & Control, Make history their own, You're no different unless you choose to be, what story this time are you offering me?'
'Bilderberg' is anchored by another powerful percussive pulse and strident power chords before the song moves towards a dramatic conclusion , via a startling tempo change with slapped bass, sparkling arpeggios and wah wah laden guitar.
'Ms. Brownstone' is arguably the best track on the CD. Opening with a Howlin' Wolf sounding hobo, this is a searing rocker straight out of the Rush locker, full of angst ridden vocals, a big guitar figure and a wall of sound punctuated by a wah wah led fiery solo. On 'La Mort Du Soleil' the band mix lyrical eclecticism with what sounds like two different tracks playing simultaneously. 'Crash Landing' lives up to the title and is interesting in a 'everything but the kitchen sink' type way. Cannon's voice just about transcends an unlikely meeting of power chords, synths, and guitar.
Feed the Fire is undoubtedly a band in search of meaning, truth and a sense of the dramatic. Given the accompanying lyrics and startling sleeve artwork you know they have a lot to say. Unfortunately the lyrics are all but indecipherable in small print on a black background. In fact although you can't disagree with their notion of looking for a 'big sound with a big presentation', it is their 'grasp for the epic' rather than a 'grasp of the epic' that leaves a shortfall between what is intended and the actual.
And while the concepts and feelings do become clearer with repeated plays, you suspect that just like Rush it might take a few albums more for Feeding the Fire to truly find their own recognisable style.
****
Review by Pete Feenstra
---
| | |
| --- | --- |
| | Print this page in printer-friendly format |
| | Tell a friend about this page |